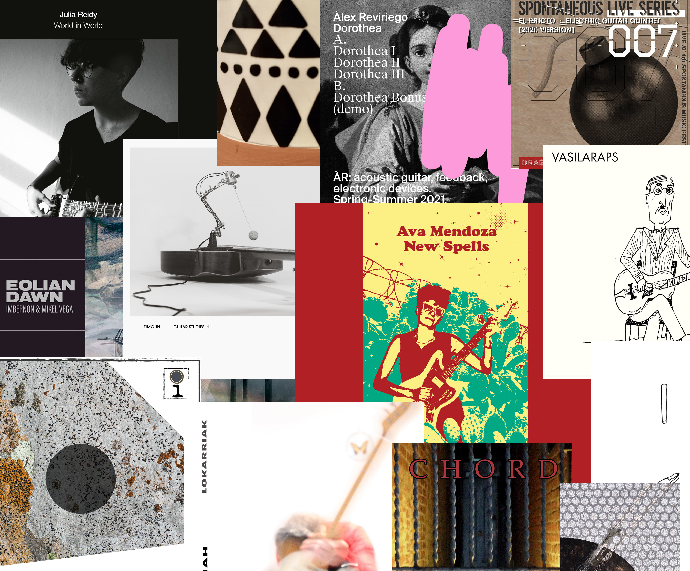 Recently, I was struck by how many solely guitar albums I was acquiring. So, a list – why not? – the guitar and nothing but. A (baker's) dozen of 'just-guitar' albums released within the last 12 months or so, all focused exclusively on the one instrument. Prepared, unadorned, abused, processed via a bajillion effects pedals… the sounds are all guitar-generated. From finger-picked swing to alien ambience to storms of distortion. From axe caressers to axe murderers, have fun listening…
–
#1. "presets" by Chris Sharkey
(not applicable)
25 June 2021
To begin with the practically unrecognisable, Chris Sharkey's presets uses the guitar as a sound controller. There's nothing that's obviously picked, strummed or plucked here. Eschewing tradition, this is 84 mins of deeply textured ambience. Slow your expectations and absorb the myriad details. (Full review here.)
#2. "IV" by CHORD
(Punos Music)
6 August 2021
In contrast, this is a very guitar-sounding guitar album. Nick Didkovsky and Tom Marsan's CHORD project is a love letter to big, dense, sexy, overdriven guitars, bathing you in howling distortion, with thankfully no concept of 'enough' in sight.
(Full review here, and while you're at it CHORDs I thru III here.)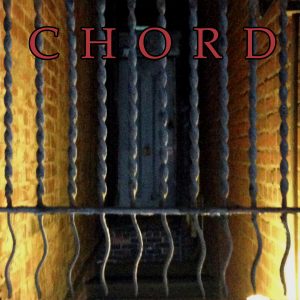 #3. "rrrrrrrrrr tKtK" by Javier Areal Vélez
(Nefarious Industries)
27 August 2021
In case you're wondering about the title, it's pure onomatopoeia. Prepared guitar, with an emphasis on timbre, rhythm and intensity as Vélez attacks his instrument with a variety of common objects. Fascinating and immersive and if listening isn't enough for you, you can get the CD + 'prepared guitar startup kit' with objects (washer, spoon, scourer, stone, etc.) and instructions – love it!
#4. "Βασιλάραψ: 4 καμινέτα για ντούο κιθάρα (Four Kaminetti for Guitar Duet)" by Vasilaraps
(Ramble Records)
1 October 2021
A duo album showcasing the compositions of Vasilaraps. If you're unfamiliar with the composer, the back cover has a helpful biography of this Greek Ethiopian, whose name bears a suspicious (yet surely innocent?) resemblance to the two guitarists here: Themis Vasiliou and Giannis Arapis… Jazz Manouche blended with elements of Dimotiki folk and filtered through a fine Derek Bailey sieve. Sweet with a salted edge, the intricate picking and rhythms are absolutely entrancing and oddly addictive.
#5. "Spontaneous Live Series 007: El Pricto Electric Guitar Quintet (version 2020)" by El Pricto, Jasper Stadhouders, Diego Caicedo, Hubert Kostkiewicz, Michał Sember, & Paweł Doskocz
(Spontaneous Music Tribune)
1 October 2021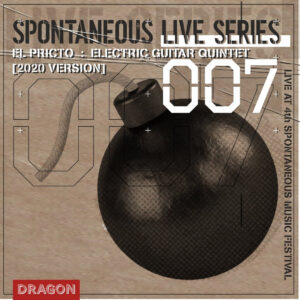 Saxophonist and mod-synth-er El Pricto is in Butch Morris conduction mode here, guiding five guitarists through four instant compositions. Spears of sound jab through a cloud of off-kilter picking, multi-chords crunch and pummel, textures clash and meld… The whole thing has the feel of taking place inside a huge bell – the space itself seems to resonate. As you might expect, no shortage of chaos… but moulded.
(At the risk of seeming smug… in 2015, I was lucky enough to witness a quartet precursor of this at Barcelona's Soda Acústic.)
#6. "Lokarriak" by A.Maiah
(Umezurtz Lanak)
4 November 2021
Asier Maiah treats us to Telecaster twang, nicely roughed-up and deployed in a series of improvised shorts. Call it punk-country, call it ¿?-wave poetry, call it anything you like, this series of riff-based extemporisations rasp and slice away at the brain, piercing the temporal lobe and auditory cortex, and leaving echoes lingering in the skull.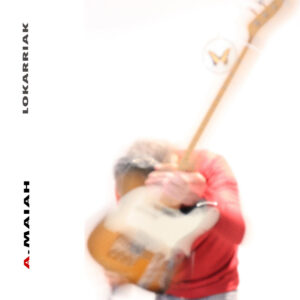 #7. "Of Life, Recombinant" by Han-earl Park
(New Jazz and Improvised Music Recordings)
26 Novembre 2021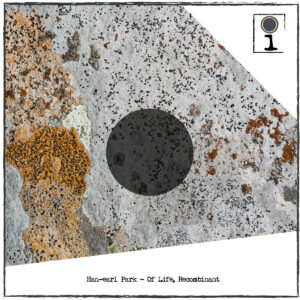 Quite frankly, this album astonishes and bewilders me (which only draws me to it more). The techniques and sounds developed by Han-earl Park seem a fresh palette for the electric guitar. Pyrotechnics abound, but not in any kind of traditional sense. An exo-terrestrial narrative – when I want a soundtrack to re-read Lem's "Solaris" to, this might well be it; not your regular 'otherworldly'. To be heard to be believed.
#8. "New Spells" by Ava Mendoza
(Astral Spirits / Relative Pitch Records)
26 November 2021
This is fun. And moving. With a big (I mean BIG) open tone, full of gravel and resonance, the playing is fluid, unhurried, raw, joyous… Ava Mendoza triggers and tickles and toys with all the rock'n'roll emotions – often simultaneously heart-wrenching, gut-punching and hell-yeah euphoric. Guaranteed victor in any cutting contest, and absolutely no need to enter one; nowt to prove – a guitar deity, plain and simple.
#9. "Dorothea" by Àlex Reviriego
(Finis Africae Colectivo / Ultra Local Records)
4 February 2022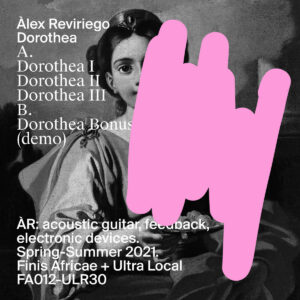 Àlex Reviriego foregoes his usual bass for acoustic guitar on this short set of devotional intensity. On the surface, very pure-sounding acoustic with long washes of clear sound. Beneath and seeping around the edges, electronic ghosts crackle, buzz and hum. It's a simple and effective combination that creates a deeper experience. Throughout there's a strong feeling of intense yet unforced focus.
#10. "Snisher Snasher" by Stef Kett
(Romac Puncture Repairs)
31 March 2022
A compelling set of instrumental noise-blues and folk-country picking. Groaning, howling six-string skronk alternates with more reflective (and subtly wonky) acoustic themes that – soundtrack-wise – seem to suggest a scene or moment. Nicely balanced and the acoustic tracks do not lack bite – Stef Kett's 'edge' comes from the fingers not a distortion pedal or suffering amp.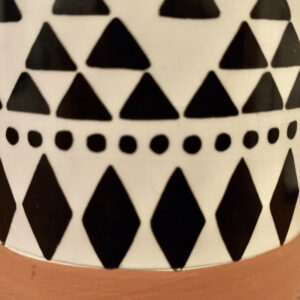 #11. "Guitar Studies I-III" by Zimoun
(Room40)
6 May 2022
A guitar drone sound installation – dense, minimal, and also an endurance test, clocking in at 3+ hours. Zimoun uses mostly prepared guitars, some played remotely with small DC motors, others more conventionally combined with iterations of recorded guitar sound, transmuted in various ways. The ethereal result is a glacier of pulsing sound, inexorable, inevitable and possibly transcendental.
#12. "Eolian Dawn" by Jon Imbernon & Mikel Vega
(Sentencia Records)
20 May 2022
Dark, minimal, improvised abyssal ambience courtesy of the guitar+electronics of Jon Imbernon and Mikel Vega. A subtly oppressive soundtrack to dreams and nightmares, and deserted malls constructed on dimensional portals. A kind of "Paris, Texas" for the paranoid Misinformation Age…
#13. "World in World" by Julia Reidy
(Black Truffle)
27 May 2022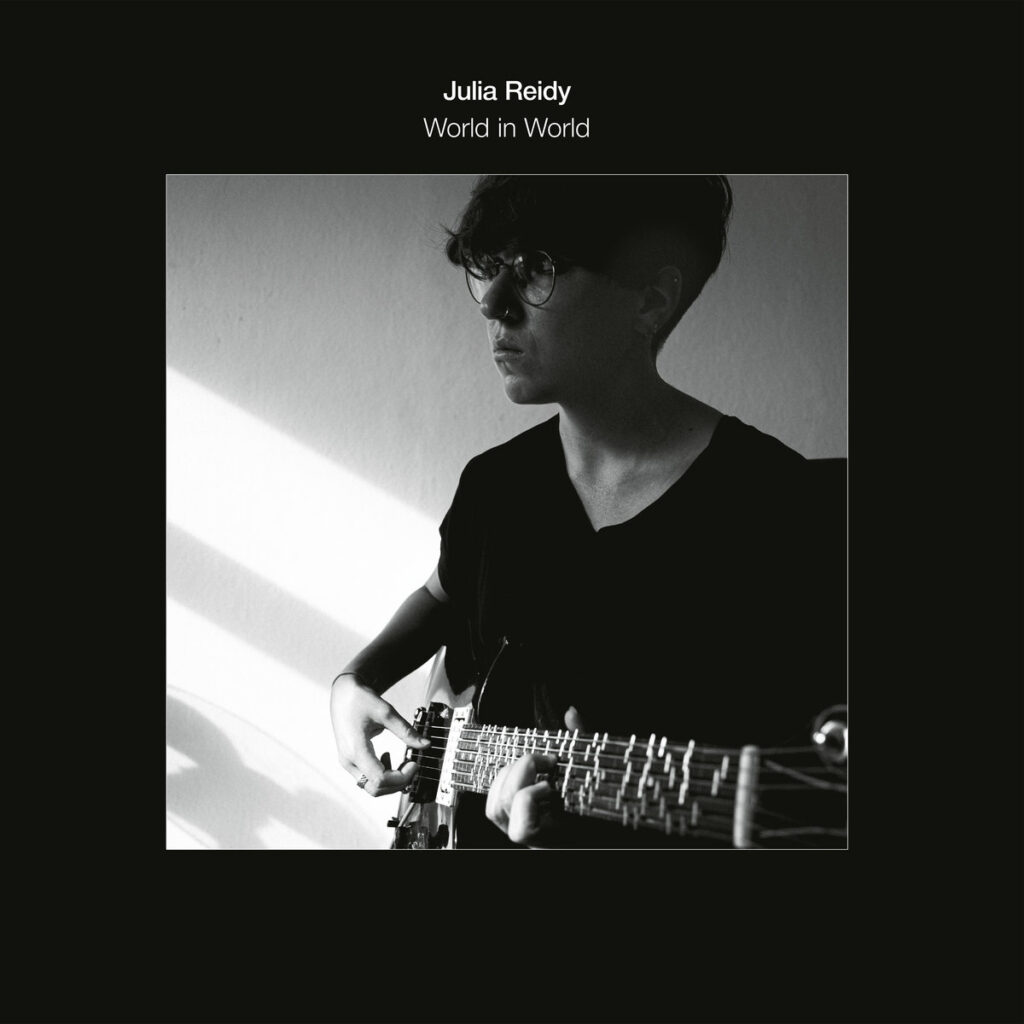 Julia Reidy is a 21st century fingerstyle troubadour, strolling through a delicate mech-electric world. Woozy notes ring out, intonation flexible, ripples of sounds ebb and flow, subtle electronic manipulation and delay embroider the edges… pulsing, shimmering… barely-there vocals drift in, borne on the ether… clockwork ticks and whirs, electricity hums, the twang goes on.
That's all, folks! For now… I'm tempted to go digging through the downloads for recent albums that are all-saxophone, all-drums, all-whatever-you-like so, if you found this list oddly or unexpectedly pleasurable, let me know…