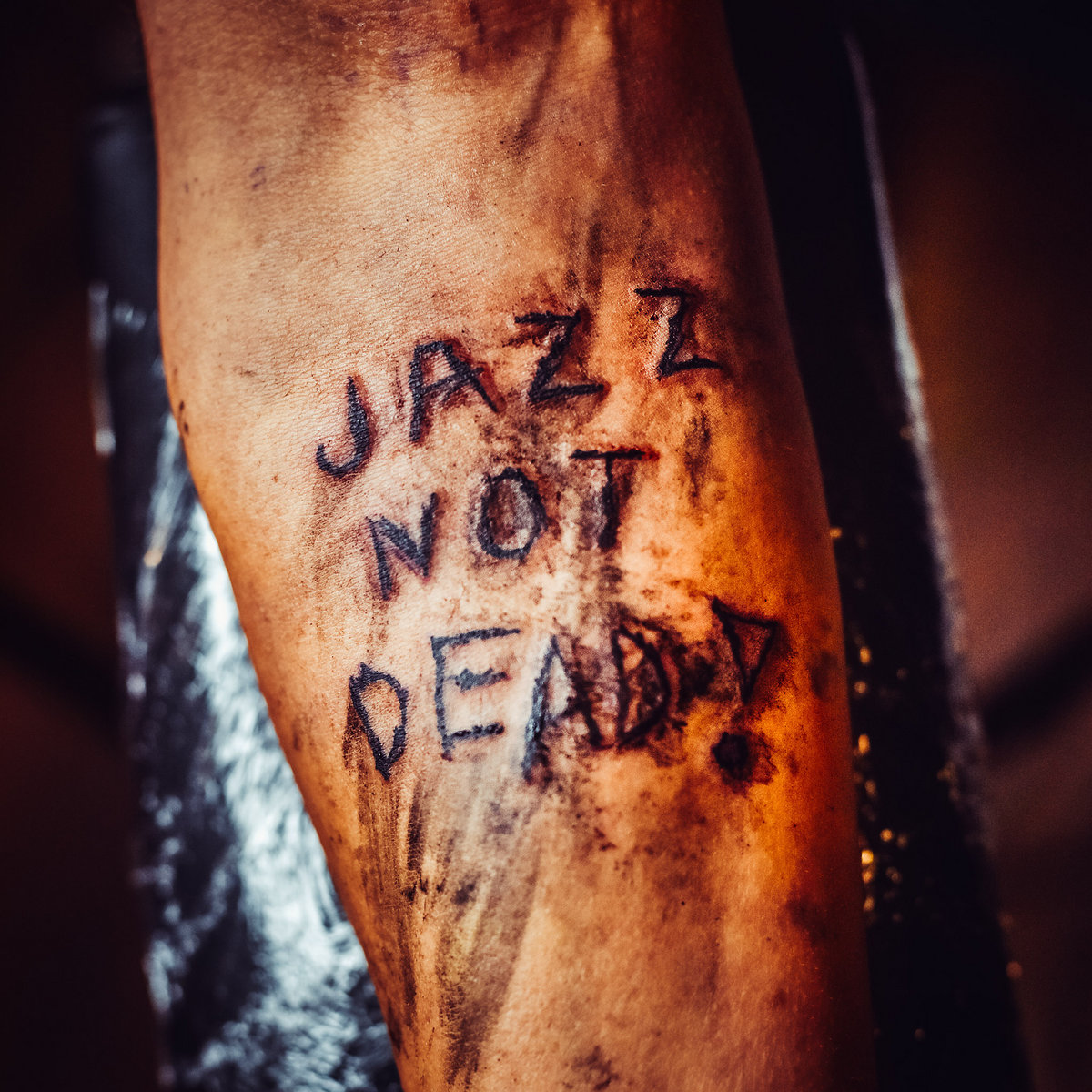 CRRNT Records was behind one of my favourite albums last year – Aurelijus Užameckis' Signals – and so despite the gruesome cover image (or perhaps, because of…) I was naturally curious about this new release from Lithuanian group Džiazlaif (my Lithuanian couldn't be more non-existent but I'm pretty sure this could be pronounced "jazz-life"…?) Anyway, despite Užameckis featuring on both albums, this couldn't be more different…
Kicking off with the title track, the scene is set with a bombastic sax'n'guitar-led fusion of rock and jazz. It's not Weather Report but is giving me a 70s 'big tune' vibe. Invigorating, but if you're settling in to rock out, Son from NY's intro seamlessly transitions to something altogether more acoustic, loping and languorous. Jazz indeed.
And this is how it is, a stylistic rollercoaster ride, drums-bass-guitar plus a three-sax frontline taking you on a mad game of hopscotch. It's exhilarating and it's great fun.
We have gestures in the direction of so-called Nordic cool with As You Were Blooming and What Are You So Silent About? There's the tongue-in-cheek jazz soup of Faking Jazz Together (fake it and you've made it!) including a drum solo in which Ignas Kasikauskas gets his Gene Krupa on. There's the prog-jazz grandeur (including group chanting) of Dūminis, the bluntly tachycardic Fuck Off, the skronk and wail of Olafas, which transforms into a driving free jazz groove à la The Thing. And just in case that's not enough variety, a series of one-off guest appearances add even further life…
Dominykas Vyšniauskas's restrained and barely-there trumpet on the extended and contemplative As You Were Blooming is an abrupt (almost shockingly so) break from the racket. JeN Hovorka's hip-hop vocals give Liquid its identity. And Adomas Koreniukas's accordion is essential to the joyous, winking waltz mood on closer Tėvo Valsas.
Above all, the album as a whole has a sense of humour. I listen to so much 'serious' music (and I love it and appreciate it, I really do) but sometimes it's good to just kick back and have some fun. And this is a really fucking FUN listen! I bet these folks are great live.
To paraphrase FZ, Jazz Not Dead, Just Smells Funny. (Damn it! I promised myself I wouldn't do the Zappa line…)
Jazz Not Dead
Son From NY
Fuck Off
As You Were Blooming
Faking Jazz Together
Dūminis
Olofas
Liquid
What Are You So Silent About?
Turbofolk
Tėvo Valsas
(60:12)
CRRNT Records
Kazimieras Jušinskas – soprano, alto saxophones
Arminas Bižys – alto, tenor saxophones
Danielius Pancerovas – baritone saxophone
Paulius Vaškas – electric guitar
Aurelijus Užameckis – el. bass, contrabass
Ignas Kasikauskas – drums
Dominykas Vyšniauskas – trumpet (#4)
JeN Hovorka – vocals (#8)
Adomas Koreniukas – accordion (#11)
Jazz Not Dead is available for download from the CRRNT Records Bandcamp page, not to mention a range of t-shirts…