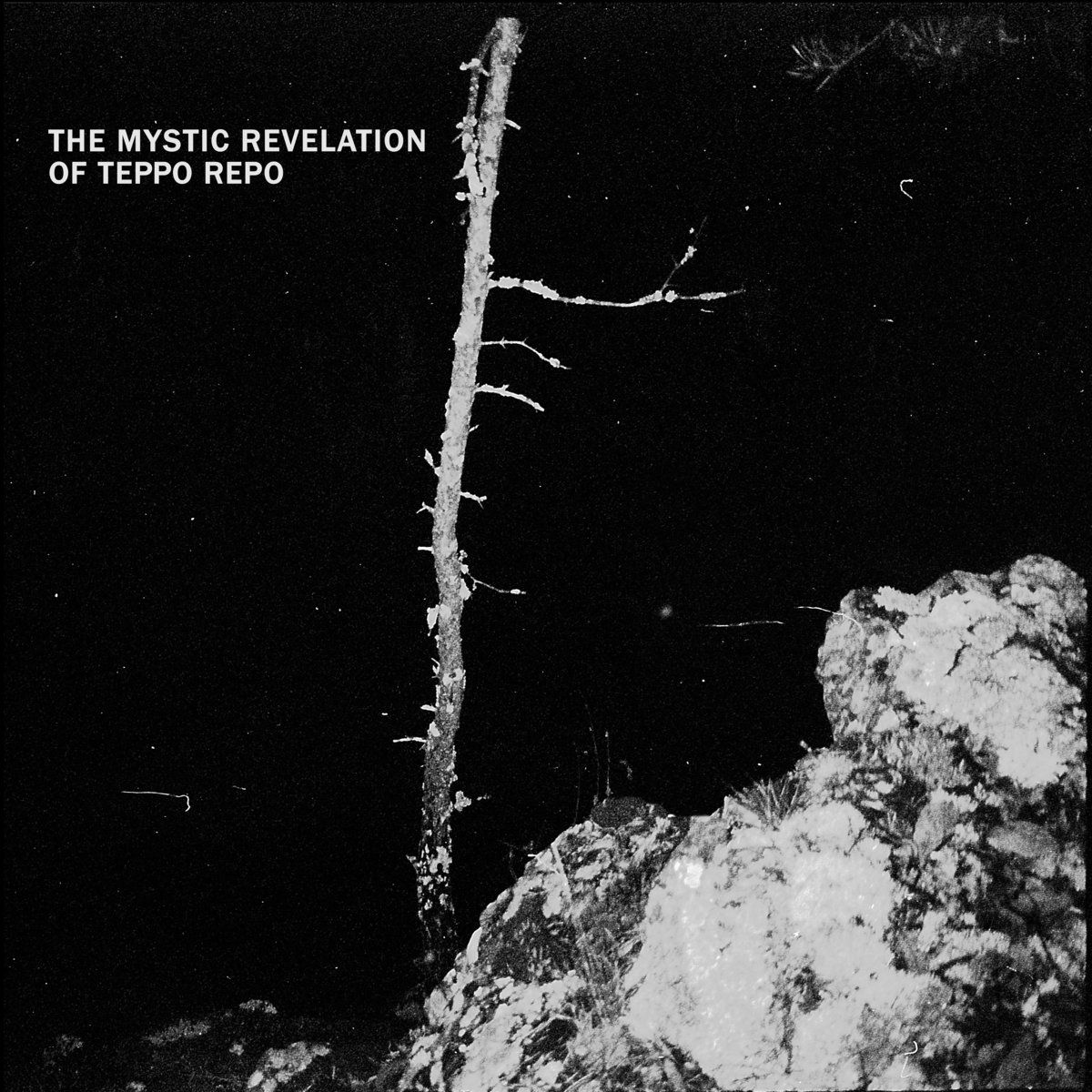 Question: Who is Teppo Repo?
Well, the twin powers of Wikipedia and Google Translate tell me that Teppo Repo (1886-1962) was originally from Soikkola (in Russia, on the Gulf of Finland) and he was by turns a mechanic, a shepherd, instrument-builder, and a prominent figure in traditional Finnish folk music, known for his compositions and flute-playing.
How does the legend of Teppo Repo fit in with this trio of musicians and this album, "Kosmoksen erakko" (roughly translated as "Cosmic Hermit")?
If there's a common theme to the five tracks here, it's hypnotically repetitive bass riffs, Nyabinghi-based percussion, and sparse, airy flute lines. Combined, we get a nodding, uplifting trippiness, a ritual-hypnotic jazz that draws on other traditions… as well as the African-Jamaican rhythms, the trio incorporates non-US/European instrumentation – including topshur (Mongolian lute) and shakuhachi (Japanese bamboo flute) – alongside the electric bass and drums.
The result is an oddly pastoral, close-to-nature vibe cross-pollinated with a ritual, shamanic mystical elevation… Which maybe brings us back to Teppo Repo himself.
So far, so intriguing…
What does it sound like?
Often, the bass and drums/percussion lock in to create a gently pulsing, rolling canvas on which the flute brushes broad strokes of sound. It's uncomplicated, sparse, stripped-down even – and very beautiful. A direct experience that radiates peace and inspires meditative calm while also incorporating a quietly funky drive that pushes the body to move itself (possibly best demonstrated on the intimate, abbreviated (and piano-less) yet faithful version of Abdullah Ibrahim's Kalahari.
It's free music. Not in the sense of note choice (these melodic and rhythmic routes feel well-worn, with various traditions trod into the path) but in the sense of invoked emotion and sense of lightness. Freedom music.
Sahko's Bandcamp description references the spirit of nature and the Finnish forests. Listening, it's easy to conjure an image of musician(s)-as-shaman in a sylvan clearing, practising ritual invocation and nature magick through sound that has travelled the world.
It's difficult to know what a shepherd-flautist born 136 years ago would think of it, but I suspect Teppo Repo would have recognised a spirit in common.
Jolkottelevat sudet
Reida
Yö päivällä
Kalahari
Vuosaaren kirkonkellot
(35:21)
Sahko Recordings
Otto Eskelinen – maple flute, transverse flute, saxophone, shakuhachi
Eero Tikkanen – topshur, electric bass
Arwi Lind – electric drums, percussion
"Kosmoken errako" is available from Sahko Recordings' Bandcamp page in vinyl or download form.