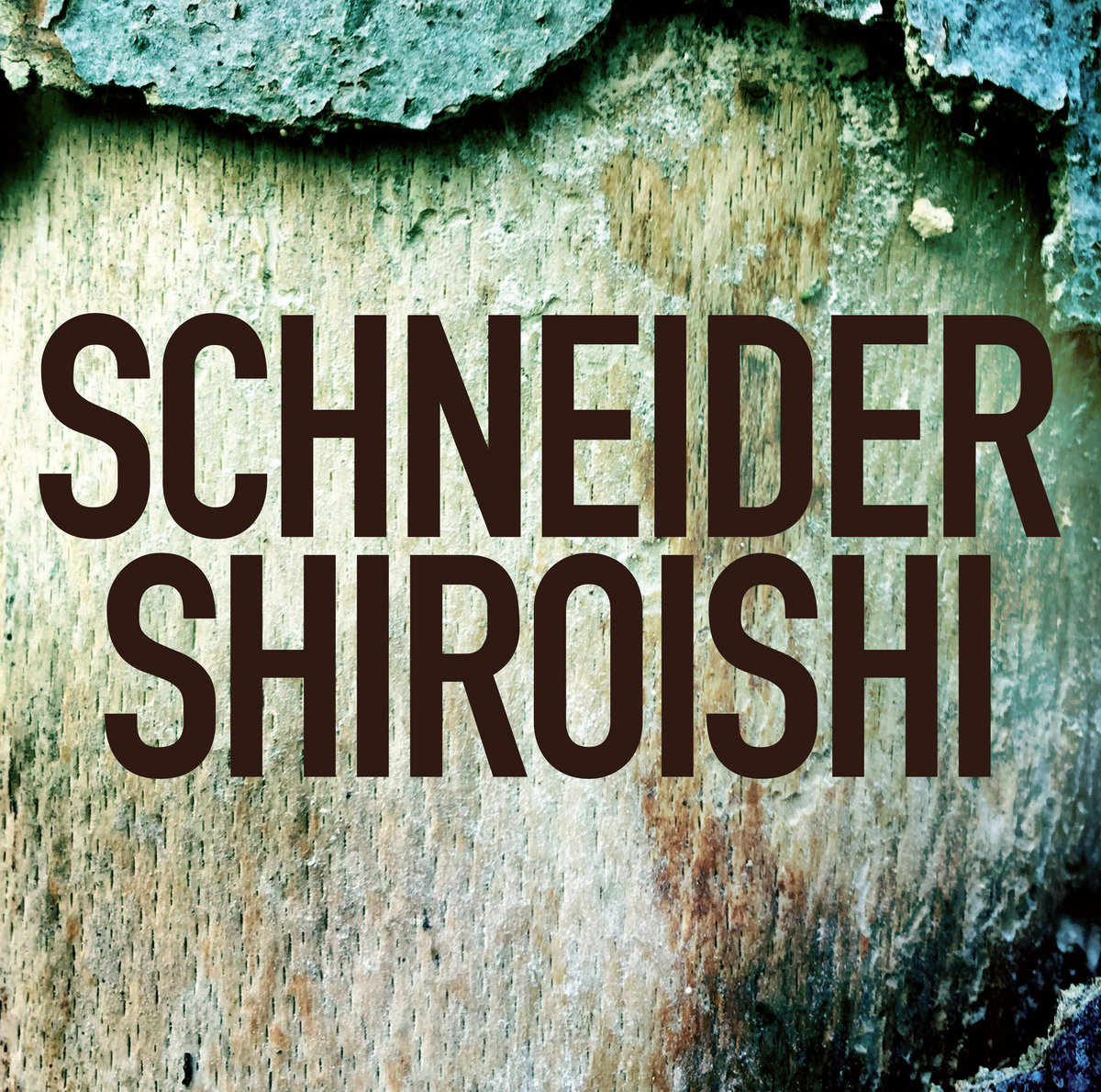 As a fan of Jörg A. Schneider's Collaborations albums, I have to say that the latest batch is some of the best yet, and offers a wide variety of fare. You have the razor-edged, jerky pointillism of Schneider-Kristof, all nervous energy and twitch, bordering on the psychedelic; the murky avant-garde ambience of Schneider-Baker; and the often harsh, fuzz-doom overload of Schneider-Dahl.
Then there's the intense, spiritually-infused fire music of Schneider-Shiroishi. But this is no clichéd blowout, tugging at the ragged hem of a masters' raiment – the roots may be free jazz and free improvisation but the flower is altogether more individual, at times delicate but always with an almost physical impact on the flesh…
So, one of my favourite drummers and one of my favourite saxophonists – what could go wrong (hint: nothing does – it's a joy).
The consistency of overall sound and energy makes it practically a free suite – a series of short, blazing, quasi-chaotic interludes; a flickering series of free facets, refractions of the same diamond spirit fused from Shiroishi's powerful tone and controlled agility, and Schneider's ripple-to-tsunami percussion.
Flowers For The Dead begins with soft thunder interspersed with whacks and slaps as the saxophone rasps, coughs and blurts. Both musicians match each other's dynamics, beginning with a mournful tinge before scrambling into a more open landscape
On Borrowed Dreams it's full clatter ahead, the drums all movement and momentum, a sound cloud with a shifting, fractal edge. Meanwhile, the sax leaps and dives in a yearning, striving mating dance, illuminating the percussive structure from within and without.
Souvenirs Country opens with a circling shimmer and (relatively!) minimal drums. Into this space, we get longer-toned, oscillating, languid teasing lines from Shiroishi's saxophone. As the density of the percussion increases, the horn begins to rasp, hoarsely gasping and grasping – the higher you go, the harder it is to breathe – determined to climb.
With the side one closer, Slowfeeder, drier and more pointillistic patter-patterns combine with rapid bursts of reed-speech, morphing into a rising spiral – a fragmented-yet-fluid melody.
Pluto Sunset opens side two, gnawing and grinding, shaping blocks of sound surrounded by percussion – like an abstract monument in the labyrinth's heart.
With Desert Cradles, Blank Towers things get a little more… lyrical? A touch more lucid, certainly, more accessibleto the earthbound. The drums roll on, but with a more profound tonality, as a mellower saxophone voice tells a continuous story, surging, swaying, pushing, longing… Not sure this is 'date music' (whatever that is!) but it is romantic, with an ascent towards playfulness – increasingly insistent, a final blaze of feeling, then a warmer, sparer epilogue.
Arguably – for me, at least – the grand finale, Maniacs In The Fourth Dimension takes the previous more melodic approach and folds it into something more like a prayer or lament. The sudden softness of the percussion, the stately-proud saxophone, the slow, unhurried passion… As Schneider's waves lap at the shore, Shiroishi dances on the sand, whispering, expounding, exalting. Quite frankly, this last track puts me in mind of A Love Supreme's Psalm. 'Nuff said.
For me, Jörg A. Schneider's hallmark is a kind of tachycardic freneticism, a pounding, pouring pulse beat that – regardless of velocity or density – provokes sympathetic vibrations in the circulatory system of the listener, tightening the nerves and focusing the attention of and on his accompanists. This album is free fire music, arcing into the 2020s from all the way back in the 1960s.
But you know, those Schneider Collaborations? They're all worth checking out…
Flowers For The Dead
Borrowed Dreams
Souvenirs Country
Slowfeeder
Pluto Sunset
Desert Cradles, Blank Towers
Maniacs In The Fourth Dimension
(40:44)
Patrick Shiroishi – alto saxophone
Jörg A. Schneider – drums
Schneider-Shiroishi is available from the Schneider Collaborations Bandcamp page in vinyl or download form.