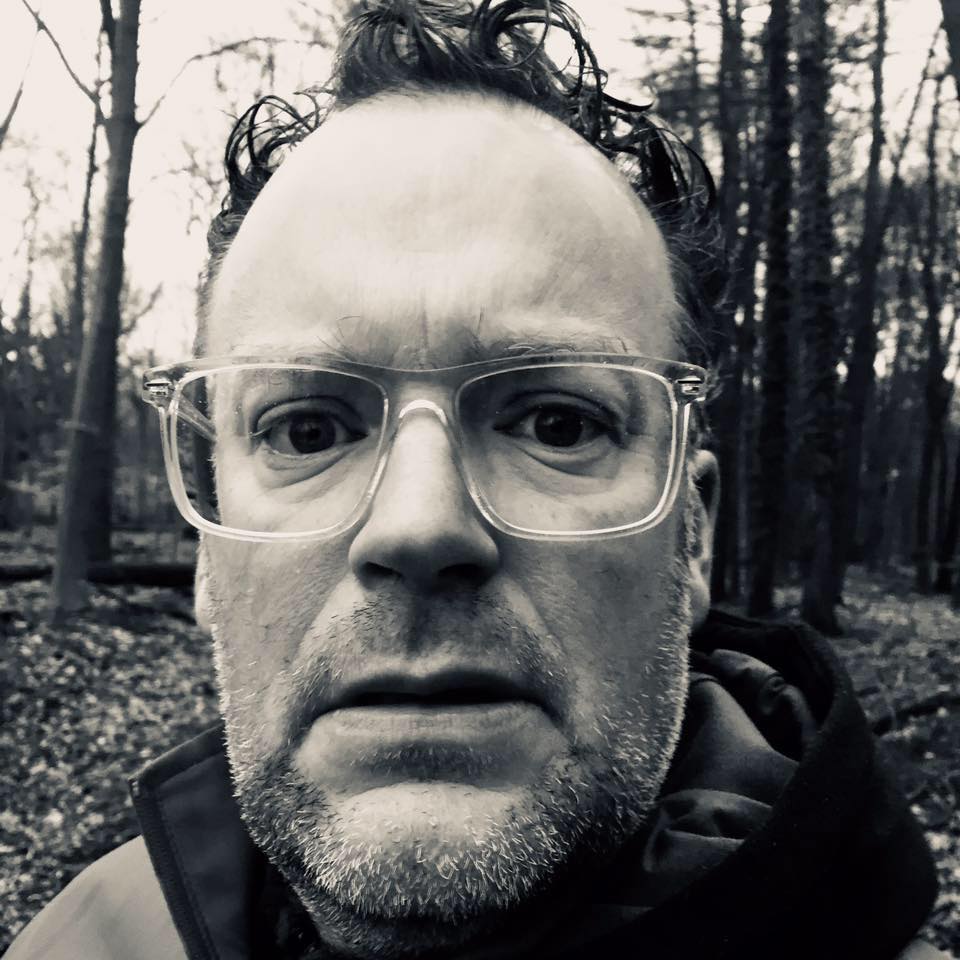 Over the last few years, in my delvings into the nether regions of free improv, noise and vaguely jazz-related music, the name Jörg A. Schneider kept cropping up. And always in a good way (e.g. ROJI's "The Hundred Headed Women" from aJN's Best of 2017 list). And the more I delve, the more I see his name (Nicoffeine, Wolfskull, Jealousy Mountain Duo) and the more I want to know/listen. So, preceded by a short bio, here are Jörg's seven answers to seven questions…
My name is Jörg A. Schneider, born 1969, a drummer living in Germany, working in the German underground since 1989. Played over 2000 shows in the past 30 years, 15 USA and Canada tours, and have released nearly fifty records. Was a big part and co-founder of the German label Blu Noise Records from 1995-2017. My bands past and present: Les Hommes Qui Wear Espandrillos, Fischessen, Jealousy Mountain Duo, Nicoffeine, ROJI, Tarngo, Wolfskull, Bone Machine, Sun, Gaffa, International Friendship Society, Katla, and Lude.
1. What was your first musical instrument, and what did it mean to you?
I got into music really late, around age 12, my first record was AC/DC's Back In Black in 1981. Don't ask me why, but the first instrument I grabbed was a violin, maybe because my father was a cembalo player, but it took me only 4 months to destroy that thing. Then I saw a band at high school playing and I really loved the drums and have been totally addicted to drumming for 38 years straight now.
2. Who or what are you listening to at the moment?
Tough question, it's really different every day, a challenge that I really need. I really like the new Daughters record, I listen to a lot of soundtracks, lots of ambient and drone stuff, bands that I really like and always listen to include, U.S. Maple, Caspar Brötzmann Massaker, AIDS Wolf, Mt Fuji Doomjazz Corporation, Trent Reznor soundtracks, Arvo Pärt, lots of free jazz and free improv, and all sorts of abstract dark weird music.
3. What have been the best and worst moments playing live?
I toured for nearly 30 years straight around the world, and had to stop three years ago because of a really bad fracture in my right wrist. The best show was maybe playing the Roskilde Festival, Denmark in 1996 with my band at the time, Les Hommes Qui Wear Espandrillos, opening for bands like Neil Young, REM and The Cure.
Lots of really bad shows come to mind, where just the circumstances were really bad or no people, sometimes not even the promoter, came. Maybe the worst was on our first USA tour in NYC, where we were the last band on a seven-band bill that night. When we played, at one in the morning, only the bartender was there and he asked us after one song to finish the show. We'd paid parking for 7 hours, which is really expensive in New York, had to pay tolls for the bridges, etc. One other really shitty experience was in 1991,we were booked for a whole European tour with The Tubes, that legendary 70s band, but after two really successful support shows the management just cancelled everything. That really sucked, to lose 20 more shows with big crowds, having rented the van and sound guys and we lost lots of money.
4. What are your non-musical influences?
There is really wide range of non-musical influences. I've done a lot of sports in my life and from all of them I've really been influenced a lot; like running for 25 years, biking for 20, tennis for 30, and especially playing hockey, which I had to stop because of a bad hand injury. Even nowadays, I watch a lot of hockey, which teaches a lot about dedication to one thing that you really love and suffering for that. Besides that, living in the countryside, in an amazing natural environment gives a lot of power, lots of trees, fresh air, not too many people, and all twelve animals that live with us are amazing
5. Who are the most inspiring people you've collaborated with so far, and why?
This could be a really long list…
First of all I should mention Guido Lucas, my very best friend who died last year, and had been some kind of spiritual rector and great influence over  the years. We had never the same opinion about things, but that made for lots of really interesting discussions. I spent most of my touring life with him in bands, he was a great bass player with an amazing knowledge of music. We founded the legendary noise rock label, Blu Noise Records in 1995 and under this label I released nearly all of my records over the next decade. We also played together in Les Hommes Qui Wear Espandrillos and Nicoffeine.
Jens Berger, my bandmate from Jealousy Mountain Duo with whom I toured over the past seven years so much in Europe and America and Canada. A really quiet guy and a guitar player who always knows to punch in the right notes, a really minimalistic unique style of playing.
Soheyl Nassary, guitar player and force of nature. We played together for ten years in Nicoffeine, toured a lot in Europe and America, and played maybe the loudest, strangest style of noise and space rock I ever heard of.
Long-time collaborator Scharco, bass and guitar player. I had a great bass and drums duo called Tarngo with him a while ago. Kind of a lightning bolt, no means no, he also joined my long-time project Fischessen that I started in 2003 with my fiancé and former bandmate Yvonne Nussbaum. She is also the piano player in my newest piano and drum, soundtrack ambient kind of band called Wolfskull, which we just released a month ago.
And finally, the amazing Gonçalo Almeida, Portuguese bass player from Rotterdam. An amazing guy for improvisation, we released this wonderful CD called ROJI two years ago. He's also on one of the four new collaborations that I did and we are working on a new ROJI for 2019.
6. Where do you stand on the streaming/downloading/file-sharing/musicians-not-getting-paid-for-their-music debate?
The streaming and not getting paid thing is really the worst thing that came with the internet. For musicians, the internet and Facebook has so many advantages nowadays, helping us to connect with people all over the world. But as one musician friend said twenty years ago, there will be generations of listeners growing up on this planet who have no idea about paying for music, and this has now been the case for many years. But that won't stop me from creating. For me, making records was always like my own diary, something that I wanted to look at after a decade of making, and seeing exactly what I did and why at a certain period of time in my life. This is what it is now, and what it will be in the future, the fun and spiritual experience of music, and the way you develop as a human. Streaming will ever kill that.
7. What's next? (musically, geographically, recording, tours, ensembles, anything…)
My future plans are really wide open. Because of my hand injury, there will be no more touring unfortunately, but that won't stop me from recording as much as I can and collaborating. I started this new series last year called Schneider Collaborations where I pre-record my drums at the Loundry Room, Hückelhoven, my own studio, and send these tracks to friends all over the planet that I've really loved playing with in the past. We did four of these collaborations this year:
Schneider – Almeida: free drums with double bass and guest contributions from Julius Gabriel and Colin Webster on saxophone.
Schneider – Complainer: with St. Louis band Complainer, music that would fit great as a soundtrack to the latest episodes of Twin Peaks.
Schneider – Scharco: just drums and guitar improv, like storm and stress, Bill Orcutt, Captain Beefheart…
SWWS: with Peter J. Woods' free jazz ensemble from Milwaukee, the strangest, scariest free jazz band I ever heard of.
There will be also be new Wolfskull, a new Fischessen, and a new ROJI recording. And I hope to release a recording that we did just two weeks ago here with an amazing sax player from Philadelphia, Jack Wright, and Evan Lipson on double bass.
–
Wolfskullmusic.bandcamp.com
Jealousymountainduo.bandcamp.com
Schneidercollaboration.bandcamp.com
Nicoffeine.bandcamp.com