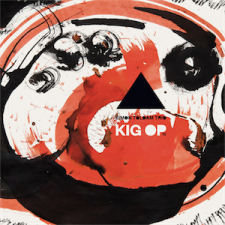 (This review first appeared in Jazz Journal in January 2016).
Nils Davidsen (bass)
Knut Finsrud (drums)
Simon Toldam (piano)
Hop
Propel 15
Seglmånen
Se, et menneske kigger op
Dryp fra Rummet
Noget om Luft
Ellington
Glasperle på Himmelbjerget II
Juniper på Jupiter
Trætop
Torden Blues
Hjemkomst
(39.36)
Copenhagen, 27th & 28th May 2014
ILK Music ILK242CD
****
It's my first encounter with his work, but Toldam seems pretty established in certain circles, as evinced by the fact he's already put out 13 albums as (co-)leader, and has a near-fistful of Danish Jazz Grammy awards. The point I find particularly impressive is that he's part of Han Bennink's trio; that alone suggests a varied, flexible and spontaneous approach to the music.
And variety is what we get here. Although the imposed theme is "Kig Op" or "Look Up" and the press release suggests that each track represents something you might see when looking up, personally it seems truer to see this as a series of vignettes, each thematically individual and connected to its fellow tunes only by the composer and musicians performing them.
The variation is exemplified by the fourth track, Se, et menneske kigger op, beginning with a somewhat playful, innocent piano figure, underpinned by some nice brushwork from Finsrud, it soon begins to swagger, leading into a softer introspective outro which is really Davidsen's chance to shine (and he does).
It's really an astonishing breadth of styles in under 40 minutes: the quasi-classical Seglmånen, the warm analogue tone of Hop, Propel 15's pointillistic minimalism, the koto-like wire plucking of Trætop… in a sense, Toldam & Co. have conducted their own dissection of jazz history here, from swinging fun to frenzied avant-garde and back again, to see how far it is; and all with a sense of loose confidence, effortlessly melding the classic and the contemporary.