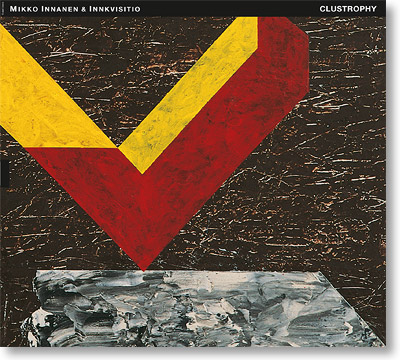 (This review first appeared in Jazz Journal in 2012).

Mikko Innanen (alt, baritone & soprano saxophones, Indian wooden clarinet, percussion, whistles, toy instruments)
Fredrik Ljungkvist (tenor & sopranino saxophones, clarinet)
Daniel Erdmann (tenor, baritone & soprano saxophones, toy clarinet)
Seppo Kantonen (synthesiser)
Joonas Riippa (drums, percussion, pocket trumpet)
Earth's Second Moon
Vraa-Tender
Clustrophy
A Panoramic View from the Top Floor
Underground
The Grey Adler Returns Again
Ardennes at Dawn
Jantaraboon II
Detto the Magician
757
Jam Afane
(57.34)
Helsinki, 2-4 November 2009
TUM CD 025
Mikko Innanen is an adventurous composer, seemingly determined to explore every last avenue that jazz could have gone down. In fact, from an exploration point of view, this second Innkvisitio album is almost an embarrassment of riches, so varied are the moods and tones on offer. Innanen describes his music as 'retro-futuristic', meaning firmly rooted in jazz history but as if the music had taken a different direction from that same point – an alternate reality, so to speak – which allows him to be as imaginative and 'far out' as he likes while sprinkling his experiments with endless nods to jazz past. However odd, there is always something familiar to the ear just around the corner; often in an Ornette Coleman or Eric Dolphy vein but certainly not restricted to these two. (Retro-futuristic could also describe some of the Flash Gordon radio serial-type sounds that emerge from Seppo Kantonen's synthesizers.) At times, the three horn frontline at times creates a very dense onslaught, as in The Grey Adler Returns Again where at times Innanen, Ljungkvist and Erdmann indulge in an Ayleresque free frenzy. At other points, ambient soundscapes contrast with staccato unison riffs, leading to scalar flurries before circling back to freely improvised postbop blowing with some swinging drumming and spooky synth grooves along the way. If variety is the spice of life, then few bands are this piquant.
"Clustrophy" is available from TUM Records and Amazon: