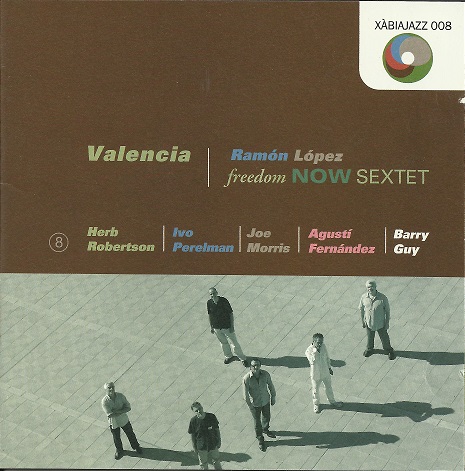 (This review was first published in Jazz Journal in 2011.)
Ramón López (drums)
Herb Robertson (trumpet)
Ivo Perelman (tenor saxophone)
Joe Morris (guitar)
Agustí Fernández (piano)
Barry Guy (bass)
Alacant
Cos I Ànima
Bullirà El Mar
Els Xiquestsi
Misteri
Horitzó
Llum I Vent
Llotja De La Seda
Cova Del Bolomor
Xàbia
Fets D'Amor
Sis Poemes
Canço de Comiat
(54.51)
Valencia, August 8-9, 2009
Xàbia CD 008
The impressively melodic drum solo, Alacant begins this album and is a tribute to López's hometown; better known to holidaymakers as Alicante. And it is this difference in nomenclature (using the regional Valencian language rather than the national Castilian) that underlines the album's theme, a local pride and a paean to his geographical roots. Every year, the Xàbia Jazz Festival commissions a Valencian musician to write, and then record, a suite of music for the festival. In 2009, that musician was Ramón López.
The Freedom Now Sextet (an undoubted nod to Max Roach whom the liner notes name as an influence on López) is drawn from all over the world – the US, Brazil, Mallorca and the UK – and features various players of some renown in improvised music circles.
You either like this form of improvisation or you don't. If you do, then the sense of unpredictability,   the sound of instruments being pushed toward seeming inevitable destruction, and the contrasting delicate seduction of new sounds from familiar objects (are those strings from the guitar, the bass, the piano?) will do it for you. If you don't, then it's noise and abuse (of ear and instrument). But everyone should have at least album of this type, if only as a sort of signpost pointing to or postcard from the lands beyond the music you know and love; to know what's out there on the fringes. And if you do only have one, this one would be a very good one to have.
–