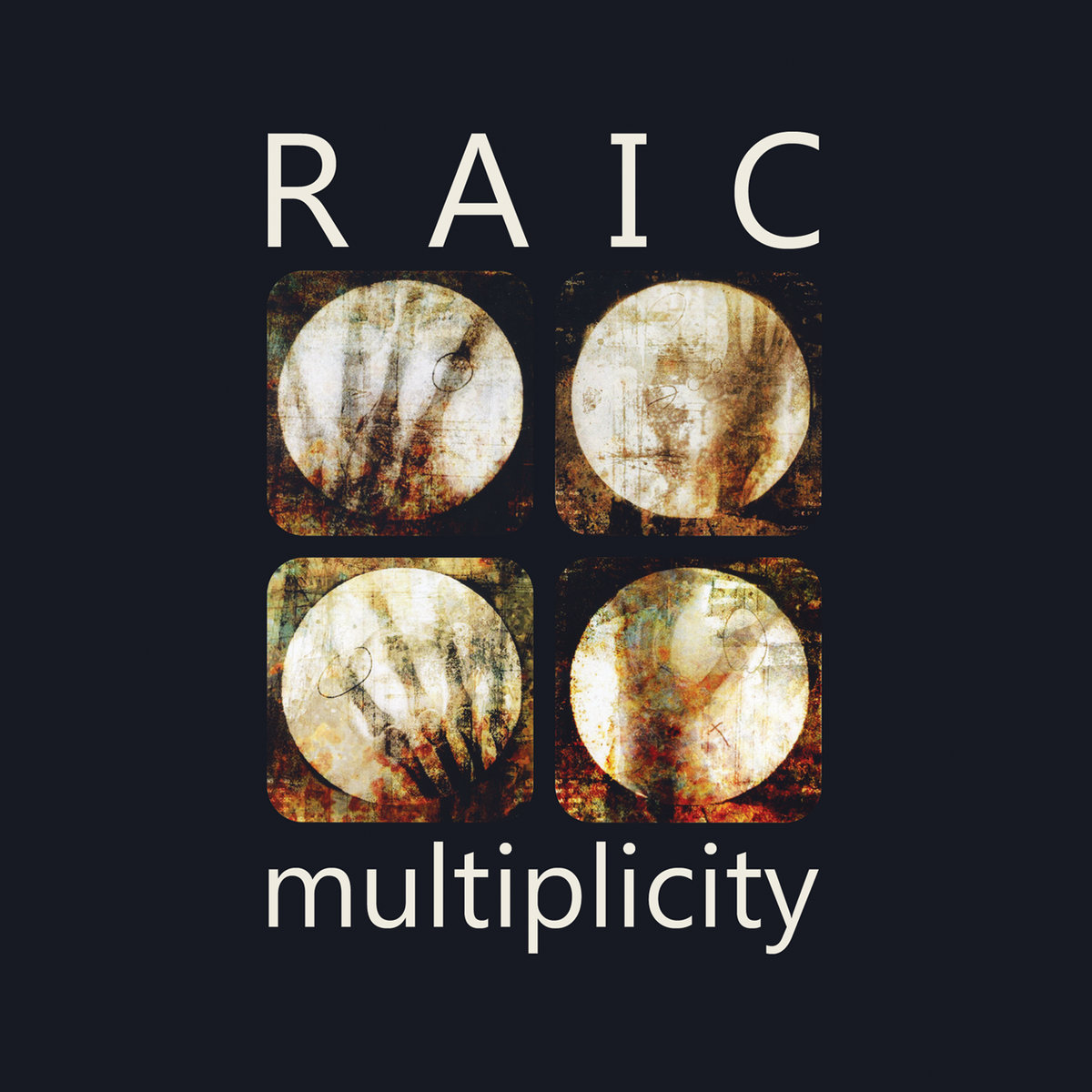 In their bio and liner notes, RAIC claim various genres – noise, post rock, classical, black metal, free jazz, avant garde, film scores, big band, 70s car chase themes, and lounge – and in this release from January, they pretty much go all-in. Multiplicity indeed.
The opening track – Balance Of The Three – is the compelling and perfect example: free jazz horn skronk'n'wail, distorted pulsating bass, driving rhythm and car-crash drums (presumably post-"chase"?) And the band? It sounds "big".
But that's just the first three minutes, following which the music morphs into a relentless hypno-storm of pounding drums (Oh, the drums! – up to five drummers/percussionists are credited in the liner notes; I can easily believe most of them are hitting something at this point) a repeated handful of notes and distant guitar distortion. At around the time you're feeling highly suggestible (around the 13-minute mark) the structure is allowed to dissolve, leaving an delicate dream sequence soundscape in which the jazz touches grow until before you realise it, you're in the middle of a seedy noir soundtrack, all rainswept streets, fedoras, wisecracks, gunsels and dames, hashtag Humphrey Bogart, all that. A sweet slice of sour but we're not done yet. The final shift is to something altogether more eerie – cymbals shimmer, brushes whisper, saxophones oscillate, guitars jab, everything is distant, audible but out of reach, faint dissonances trembling and teasing.
Put simply Balance Of The Three is a strange and exhilarating journey through many lands. But hold on, we've barely begun… Track one is a monster mash of styles and flavours and is a bit like Willy Wonka's experimental gum: it tastes of everything (though happily, I can confirm it does not turn you into a giant blueberry) and while it could stand alone as a mini-album in its own right, here it serves as introduction. The ride is far from over…
The first half of Brugmansia brings the prog – slow grandeur in wide open spaces as a backdrop to the disintegration of civilisation. Occlusion is drums and guitar spontaneously creating, at times thick smears of sonic paint bruise the canvas in holy ruination, at others it's spattering Pollack-jazz. On Leaves Continue To Fall, Schroeder gives it the full spiritual 'Trane reading and it's a gorgeous series of nudges, winks and beatific smiles to the better self. Then Agitato. Incantatory. Sometimes incandescent. Kinney's cello vibrates from the heart, combining with sparse yet decisive percussion, interspersed with Marina's ritualistic, song-like recitations. Pinguina is a groovy palate-cleanser, bouncing us into a lighter frame of mind before… Silene Udulata: slow, dense, grandiose, operatic black metal… if I also add a couple of names such as Diamanda Galas or Harry Partch, you'll get a sense of where it's coming from (or of how confused it makes me, you choose). Either way, brutally impressive –  just nod your head rhythmically and marinate your brain. And finally, the appropriately-titled Peering Into The Grave, an odd vocals + FX coda that is the perfect comedown while still running a fingernail across the blackboard of your soul.
Multiple consecutive facets, all distinct, yet each unfolding naturally from within its predecessor… or to put it another way, leaving aside the playing for a moment, this album is perfectly edited, balanced and structured.
But such comments are just strobed flashes in a larger whole, frozen moments of description that barely scratch the surface of the detail and ambition recorded on this album.
Maybe there's a story here, a play, a film, an opera… It's (mostly) voiceless, labyrinthine, and devoid of signposts. If you try too hard to find the path, you never will. Just relax and let RAIC lead you through their maze of influences and explorations. The landscape is moving, deceptive, harsh, beautiful, and the journey worth experiencing. Again and again.
Balance Of The Three
Brugmansia
Occlusion
Leaves Continue To Fall
Agitato
Pinguina
Silene Udulata
Peering Into The Grave
(74:22)
Thirsty Leaves
Samuel Goff – Drums, Percussion, Vocals
Abdul Hakim Bilal – Drums, Guitar
Erik Schroeder – Alto Saxophone, Tenor Saxophone, Percussion
Zoe Olivia Kinney – Cello, Vocals
Laura Marina – Drums, Percussion, Vocals

with guest musicians:
Sam Byrd – Drums, Percussion
Tim Harding – Bass
Jimmy Ghaphery – Sopranino Saxophone, Flute
Tristan Brennis – Tenor Saxophone
John Priestley – Guitar
Jacob Courington – Acoustic Bass
Rei Alvarez – Percussion
Tony Nowotarski – Guitar
John Bliss – Guitar
Richard Schellenberg – Bass
Lucas Brode – Guitar
–