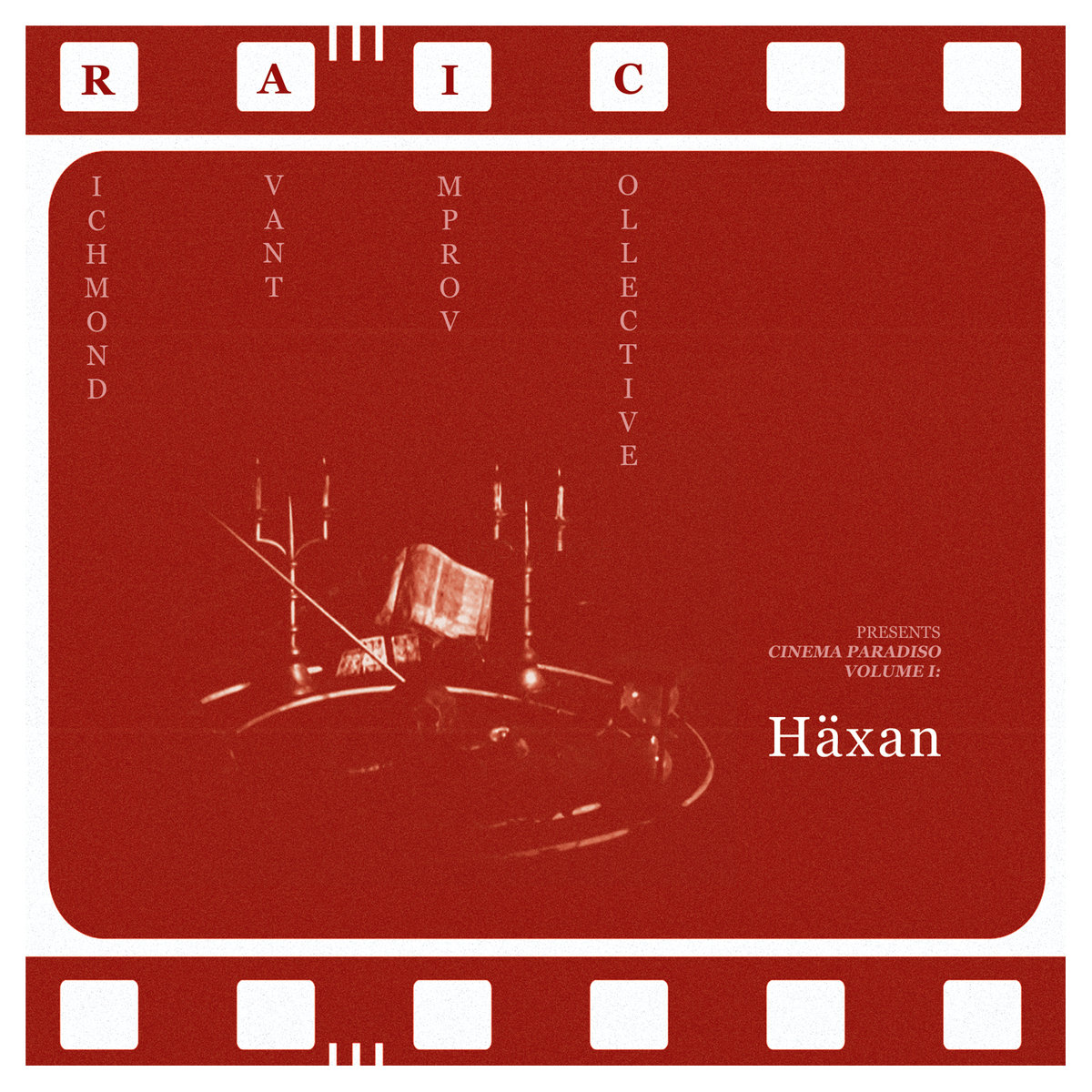 The latest from the Richmond Avant Improv Collective and it's a soundtrack… kind of. Häxan is the first in a series of improvised scores for silent and obscure movies. This first choice is a 1922 documentary-style horror from Swedish director, Benjamin Christensen, a study of superstition, witchcraft, and how ignorance and illness fuelled historical witch-hunts. The film is an odd mix of creepy visuals, subtitled information, fictional-ish reenactments, and is quite wonderfully disturbing. The album is released on Friday 13th December (oooh!!!) and between now and then, you can listen to the whole thing here… and nowhere else. So, click PLAY and then scroll down for the obligatory superfluous words…
These four instant-composed tracks are not a soundtrack, strictly speaking. You can't cue up the film on YouTube and just play the album alongside. Each piece is inspired by (but shorter than) its own section of the film. Improvised and recorded, first take, while the eight musicians watched and played, this is more 'inspired by' than 'soundtrack to'. I've enjoyed the sounds alongside the images, but it's a complete sonic picture listened to in isolation. The source material adds to the fun but it's not necessary.
As you might imagine (and hope) with music to hunt witches to, it's eerie, expansive (and expanding), a sense of horizon and distance closing in. There's a clear three-dimensional sound image (and something's rumbling and tinkling just over there, approaching inexorably…) The cello and reeds in Hell are appropriately triste-ful and quietly desperate. The intermittent heartbeat in Confession leads to an intricate noise-in-a-bottle improvised torture of percussion details, guitar string finger-noise, saxophone punctuation and electronic bubbling. The undulating sense of horror throughout (and especially in Deeds of the Devil) is pure and subtle, deceptively smooth at times with moments of sharp menace emerging with rumbling, distant tones.
It's always a captivating experience, a RAIC album and Häxan (for me) continues the run. Shot through with unpredictability and constant, seamless change, it nevertheless manages to conjure a sense of structure and purpose from the first note… And yet, when improvised, any structure can only be nascent, implicit in the connection between the musicians. Without prepared or written music, any sense of structure or order comes from a perception of the participants' communication and this is clearly audible but non-verbal high-level telepathy. Looking forward to the next in the series…
Hell
Confession
Witch Trials
Deeds of the Devil
(39:14)
Thirsty Leaves Music
Häxan is available on vinyl and download from the Bandcamp pages of Thirsty Leaves Music and RAIC.