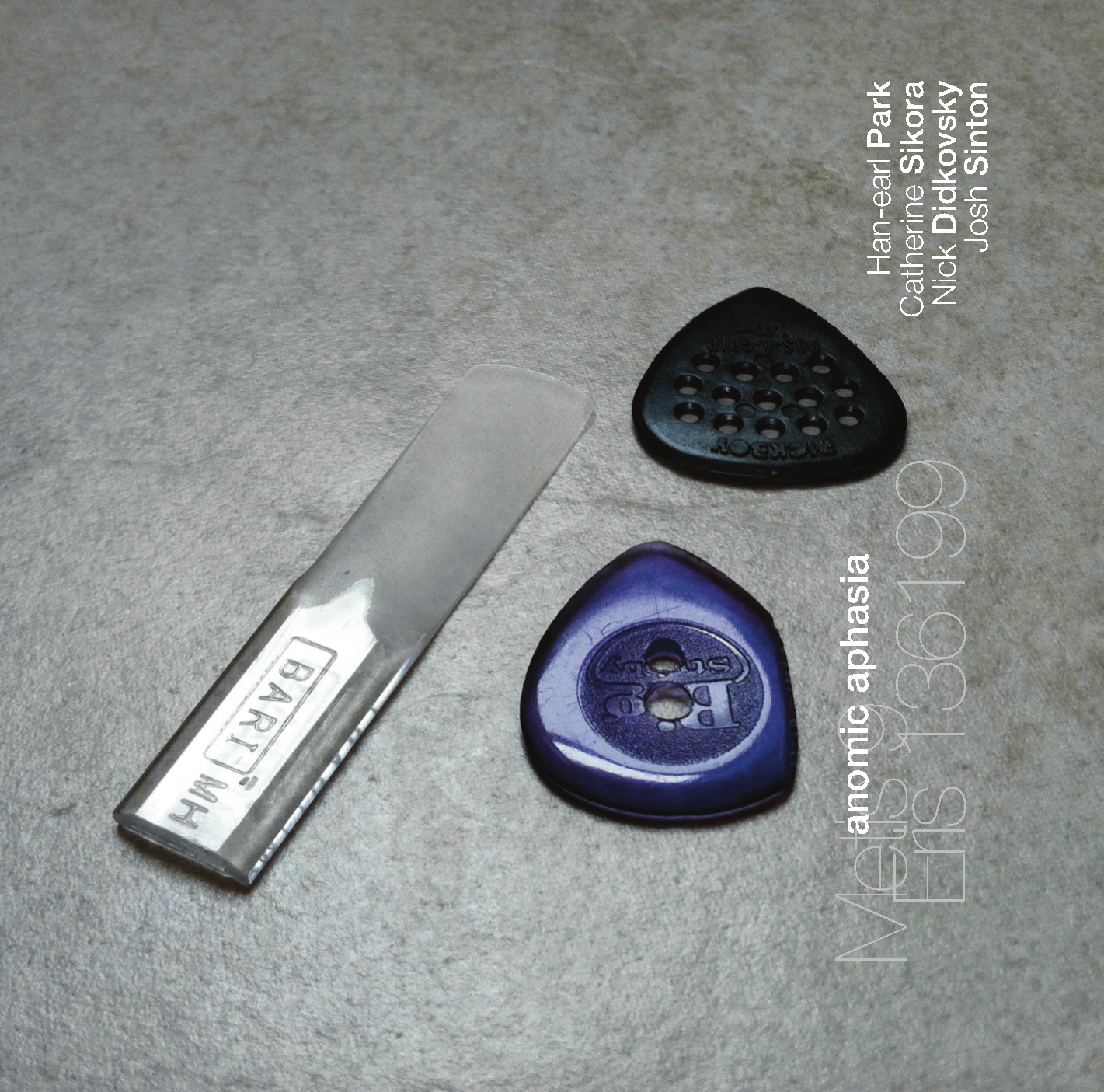 Han-earl Park (guitar)
Catherine Sikora (tenor & soprano saxophones)
Nick Didkovsky (guitar) (#1 & 5)
Josh Sinton (baritone saxophone & bass clarinet) (#2, 3 & 4)
Monopod
Pleonasm (METIS 9)
Flying Rods (METIS 9)
Hydraphon
Stopcock
#1 & 5 Douglass Street Music Collective, Brooklyn, June 5, 2013
#2, 3 & 4 Harvestworks NYC, October 9, 2013
SLAM Productions SLAMCD 559
Okay, these words are long overdue, given that this disc arrived here at the end of last summer. But however long it spends on the review pile, it's far too engaging and intriguing to put aside without at least attempting to scribble something.
"anomic aphasia": a condition in which an individual has consistent inability to produce words for that which they want to talk about. Hmmm…

So, oblique apologies for tardiness aside, here we go…
These five tracks represent two trios, which not infrequently dissolve/resolve into revolving duos.
On face value, this is a hugely enjoyable  and unpredictable set of free improvisation performances. However, there's an added level of intrigue beneath the surface once the first track is past.
That first track however, takes some getting past. Monopod is a sprawling, non-idiomatic (and non-repetitive) improvisation of suite-like proportions (27 minutes and counting). Impressive in scale, overwhelming in execution, it's a cyclic frenzy of fragmented sounds without an ounce of entropy, yet somehow with a sense of clear movement and progression. Warning: close listening can produce altered states.
Tracks #2 and #3 make use of Park´s METIS 9. What, you may ask, is METIS 9. In Park's words, "Metis 9 is a collection of improvisative tactics, and higher-level interactive macros for ensemble performance designed, designated and specified by Han-earl Park."
Confused? I was. Emperor's new clothes? Maybe, maybe not; given the playful nature of Park's website, a little leg-pulling is not entirely out of the question. Nor does the questionnaire in the liner notes dispel the possibility with its mix of obfuscation and subversion. But the web text does goes on to 'explain' a few of these "macros" and while the explanations left me feeling Park is clearly some kind of obscure genius – either a genius improviser or a genius charlatan, and I'm inclined towards the former – damned if on a re-listen, I didn't think I could spot some of these tactics at play. Stroke your chin and check out the 'interrupting continua' emerging about two-thirds of the way through Pleonasm… I think… maybe… whatever, it's fascinating to listen with that possible strategic structure in mind. And besides, you can use it as a rebuttal to those who pooh-pooh free improvisation as just 'random messing about'. Anyway, make your own mind up:
After all the preceding intensity (fully maintained on Hydraphon despite the lack of a METIS 9 designation) Stopcock's intro – in which actual guitar strings can be discerned – is almost light relief, despite its tricky density. Then second guitar begins to play hide and seek, giving the uncanny sense of listening to two separate pieces at the same time in serendipitous juxtaposition. Cue Sikora's ever free, ever inventive tenor and the layers are complete for a highly worthwhile finale.
Beauty is, of course, in the ear of the listener… but unless you are someone irrevocably wedded to comforting familiarity and resolution, I promise you'll find beauty in these five fractured pieces. Here's a sample:
More info on Han-earl Park's projects can be found on his website, busterandfriends.com
"Anomic Aphasia" is available from SLAM Productions and Amazon: