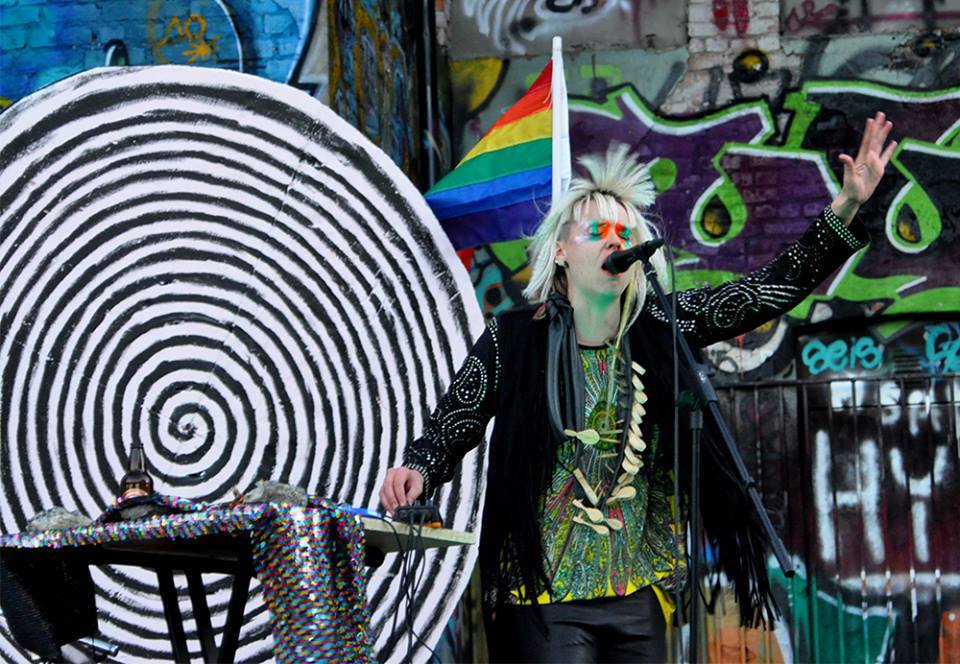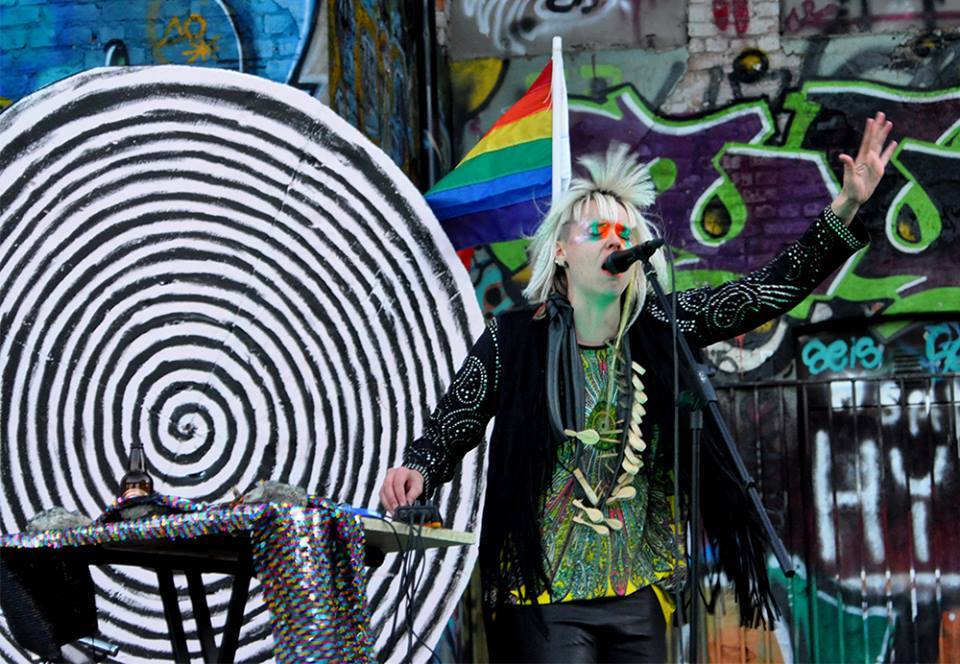 I first heard Annette Stav Johanssen's hypnotic vocals (and synths, keyboards, and lyrics) when I was given a copy of Dromedar's "Ololyga" double album by Owen Kilfeather (thanks, Owen!) Dromedar's music (and performance) is a compelling mix of drone, prog, agit-artrock, improvisation with roots in the 80s and flowers in the right-now. For an insight in Annette's performance philosophy and Dromedar's studio approach, read on… (oh, and there's a brand new, barely-before-heard, almost-a-world-premiere new recording, too!)

1. What was your first musical instrument, and what did it mean to you?
The first instrument, without being aware of the concept of it being an instrument, I believe must be the voice. In my hometown, Kristiansand, where I grew up, there was a child and youth theater that every Christmas put up classical theater pieces as Music Theater. I was so obsessed with these shows, totally mesmerized by this world of adventure, music, politics and magic. My favorite show was "Wilhelm Tell" by Friedrich Schiller. The songs from the children living in the mountain, fighting against the governing tyrant Gessler, really awakened something in me. I wanted to join this theater but my parents wouldn't allow me to, so then I made my own show with my friend, Siren, learning the songs and inviting neighbors to come and see another favorite theater piece, "The Tinderbox" by H.C. Andersen. Two girls playing all the parts, quite hilarious fun one can have as kids. Anyway, I believe this magical theater in my childhood was the key to the voice growing as an instrument, activating a sensitive listening approach in my later performances. The voice has become a journey of unexpected knowledge, from silence to loudness it has become a stage, and a privilege to explore the field, the storytelling, the poetry and the abstract, listening to the world and wake up, get connected and reach out to something bigger then yourself.
2. What was the first music you ever bought, and the most recent?
The first music I bought must be the "Wilhelm Tell" show recording (around five years old, I still remember all the songs by heart).
The latest buying of vinyl I did is the debut album from Beglomeg, a Norwegian exploring, exploding band.In my list of idols, the first records would be from Diamanda Galas, Nina Hagen, and Dolly Parton, and the latest Mari Boine, Sidsel Endresen and Jarboe.
3. What's the balance of preparation vs. improvisation for the average live set or recording?
My main music practice is with the performance band DROMEDAR, now with Tommi Damstuen (drums, percussion, sounds) and Tobias Eide (synth, sound engineer, and producer). I feel privileged and creative being so lucky working with this crew of exciting beings. In our studio we have a recording setting, so every improvisation/rehearsal has a memory timeline to pick out the interesting pieces and start building new compositions.
The perfect day in the studio is being bodily and mentally prepared, bringing my notebook with some loose and fixed materials in chaotic writing. Then while playing I find something to grasp, and in the break when Tommi and Tobias start nerding with their knowledge of technical engineering, I start writing the material for the new song. The process is very much live, and when it comes to the writing it switches from solitude of research and writing to a collective coagulating emancipation of the material.
For this question, I also want to bring forward Tobias and Tommi to say something about it, since I really admire their brilliance of their music knowledge:
Tobias:
"Most of our sessions are recorded, either multi-tracked or with a field-recorder. Fooling around with sounds and musical patterns the music will manifest itself. When we play something good we usually recognize it instantly and start working the bits over and in context with other favorite parts we might have in store.
Personally I am a great fan of George Russell and his lydian chromatic concept, and we recently hung a huge poster with his improvisation chart between our two growing keyboard rigs for help and inspiration. Not that we are going to start writing standards for the sake of it though.
In concerts we usually make room for improvisation in the overall timeline, and we tend to stretch and alter parts. Every show has initially been made out of improvisation and the urge to make something new."
Tommi:
"As a do it yourself kind of band I think we have realized that a big part of the preparation is to deal with gear and technical stuff. So right now I'm cleaning spider webs out of an old storage room in our studio to build a dedicated little workshop. Just to organize the crafting in one place. It's going to have a big workbench, a soldering station and a separate room for drilling and saw dust. I want to get into steam bending and other techniques as well.
A great thing about Oslo is the high tide of try-and-trash fashion. People throw away anything these days. All kinds of leftover materials, equipment, expensive hi-fi in favour of the newest model, etc. The other day I found an almost full drum kit, a nice flight case and a bunch of clay and woodworking tools. I collect a lot of things to use for experimenting.
I've always been driven along the hard path of learning and understanding. In practice, buying your own style just doesn't work.
Right now I'm using my old novice drum kit that is made of thin and fragile wood. The drums were cut down by an inch at the edges and reinforced by the same pieces on the insides. That so they could take more beating and yield more volume, though keep the same timbre. I got a handful of PlayStation karaoke microphones and just noticed how they give the perfect kind of mid-frequency punch to the drums. For overheads we use a pair of medium large diaphragm electrets that I soldered up, and then use a pressure zone mic in the ceiling. In an isolated dampened room this recording setup sounds very physical and powerful. I'm also working on another bigger kit that will have more odd depths and diameters with a darker, woody character. It's an eight-piece kit with oak and maple tension lugs. Something to swap with for different performance scenarios.
For our next demo, we are going to use a lot more analog and off-board effects for mixing the record. Something about many digital effects sound too stale or muddy. For the occasion I've brought to the house a huge steel plate that will be stretched up and become a true old fashioned plate reverb, among a small collection of spring reverbs and other vintage snacks."
The very latest result of Dromedar's studio process is the brand new, Human Condition:
4. What are your non-musical influences?
My non-influences? Spontaneously, I must say; football, rich old man corrupting this world, warcraft games, ignorance, arrogance, sexism, racism, conservative homophobic religious reactionary anti-feministic and neoliberal capitalistic monsters, fuck them all!
At first, I misunderstood the question, and needed to vent my outrage, and decided to keep it that way. So here's a show we did at the CODA International Dance Festival 2015 that might cheer you up:
And here's answer 2 to the question 4: I think I've got it now!
I'm searching for a wider bodily perception and understanding of the aural, as everything that interrelates us is somehow music that moves the deeper connections between us. Adding to that, I'm influenced by: novels, poetry, mythology, philosophy, current situations, art, theater, documentary, having good conversations with friends and nice walks, being able to improvise, and navigate as an eclectic chaotic being, listening to what really speaks to me and letting intuition and momentary differences be some kind of a guardian angel.  If you have by now seen the video link above, the lyrics and topics were inspired by Norse mythology, Voluspa, and the norns Urd, Verdande, and Skuld, put in coherence with topics addressed in the book, "The uprising, on poetry and finance" by Franco Berardi. Other strong Norwegian writers I'm inspired by are Tor Åge Bringsvær and Gert Nygårdshaug.
5. What is the oddest/least conventional sound you've incorporated into your music so far?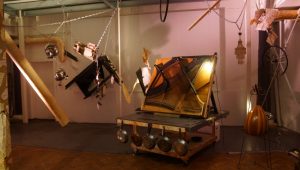 That must be from the production of Dada Dovregubbens Hall, where Dromedar together with the students and teachers at Prosjektskolen Kunstskole built the art school 10th Anniversary show. In this setting together with the visual artist Vilde von Krogh we built a common instrument inspired by Dada and Fluxus to be part of the dramaturgy, composition and concert.
Full show from Dada Dovregubbens Hall:
I must add something now mentioning Vilde von Krogh who is the founder of the art school, Prosjektskolen Kunstskole (where I am a guest teacher). Vilde and I have, since 2012, established and organized BRUCSTOCK Art and Music Festival. The fourth edition will take place 28-30 October at Can Serrat International Art Center, El Bruc, Barcelona. Stay tuned for this amazing festival!
6. Where do you stand on the streaming/downloading/file-sharing/musicians-not-getting-paid-for-their-music debate?
A short resume of this debate from me would be: Art and music is something genuine and generous, far beyond a person's market understanding, building its own knowledge of systems and communities. I really believe in this generosity and that we should take a deeper look at the wisdom and knowledge that lies in these layers of experience, gather ourselves from this place and rethink and rebuild the idea of ownership, capitalistic over-signifying language, and figure out a better way of moving the money and the people. Capital is moving freely, while victims of war and corruption are stuck on boats, underwater, behind fences, hungry, hopeless or dead. It's a shame these days!
7. If money and time were no object, what would your next project be?
Money and time is no object; it's all fluid temporary situations. In the big picture of the world, the situation is totally unjust and fixed in its money power object, but in art production I choose another focus and rather encourage to keep moving and transforming with the energy, resources and people you have around you, this way we might change the world.
Hope to see U all at the next Dromedar show!
Love,
A
For future Dromedar shows and all kinds of Dromedar news, keep an eye on their Facebook page.
Dromedar's debut album "Ololyga" is available via Bandcamp.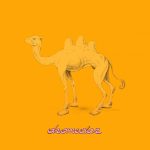 Title image © Harald Medbøe