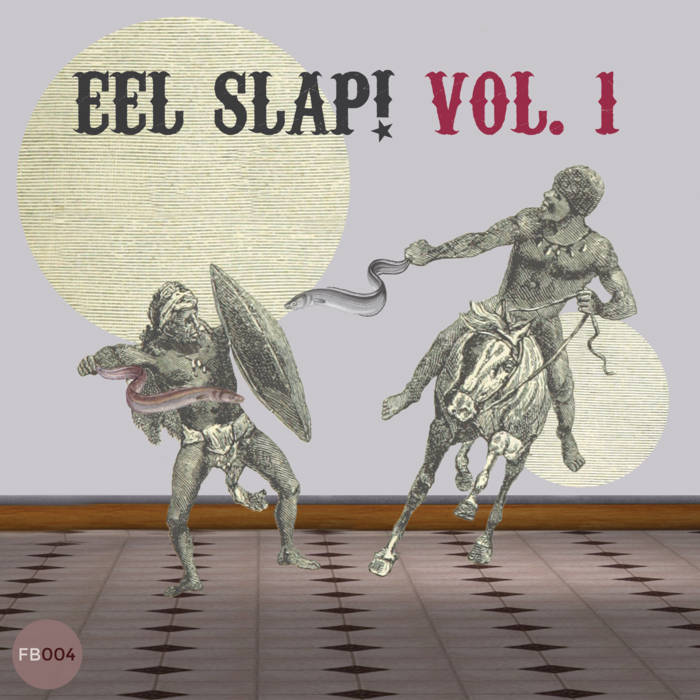 Pedro Branco – guitar, effects
João Lencastre – drums, electronics
Improvisation I
Improvisation II
Improvisation III
Improvisation IV
Improvisation V
(18:23)
Fleaboy Records FB004
2017
Improvised music is called many things but it's rare to hear it described – either by its adherents or detractors – as fun. Be assured, this short album of five short improvisations is many things: assured, absurd, exuberant, tongue-in-cheek, engaging, but above all, it's fun!
Start with the cover, a cut'n'paste image of gladiators armed with eels. Or the slyly bland track titles and assurance on the label, "Every sound you hear was completely improvised." – I'm sure it was but that doesn't mean you won't recognise some of it (more on that in a moment…) But alongside the images of piscine combat and obvious sense of humour at play, the music is a perfectly balanced equation of guitar and drums in the mould of heavy rock ingredients filtered through a free jazz lens.
It starts with an earworm guitar riff asking a question with subtle atonality, answered by Lencastre's sublimely off-kilter patterns; the occasional splashes of noise-guitar feedback are little jolts of dopamine to the brain. The second track starts in Sunn O))) territory with a deep and endless drone from Branco, a broad sonic canvas with the paint supplied by tachycardic drums. Then a quirky 'follow the talking guitar' dialogue that becomes a blistering thrashfest. Improvisation IV is a more thoughtful, lower-tempo interlude but just as the clockwork seems to be winding down, the closer serves up a looping, bending version of Goffin & King's Will You Still Love Me Tomorrow. And it's hard to imagine a more perfect finish.
The only really desirable improvement would be to have more. Looking forward to Vol. 2…
–