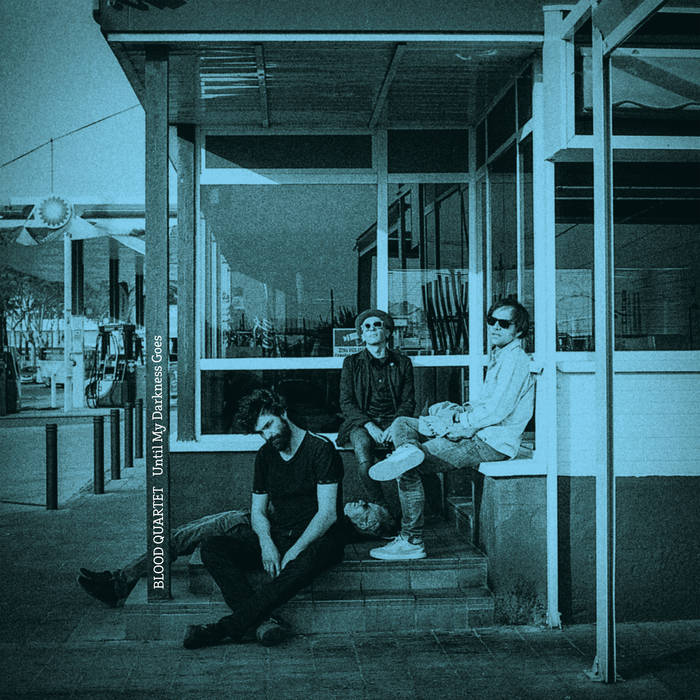 Mark Cunningham (trumpet, guitar)
Lluis Rueda (guitar, Korg MS-10)
Kike Bela (bass, Korg MS-10, guitar)
Càndid Coll (drums, voice)
Broken Soldier
NYC Limits
Fire Folk
Velvet Love
Chemistry of Tears
Surfing Rueda
Jandek
Invoke
Stress of Her Regard
Eigenlicht
Until My Darkness Goes
(42:03)
Feeding Tube Records & Gandula (on vinyl, US & Europe respectively)
Moorworks (CD, Japan)
zOna wAtuSa (cassette)
Barcelona 2018
Blood Quartet return, inviting us deeper into their interior world: eleven new rooms in the House of Dark Fun. On this second full-length album, all-new tunes bring the doom-noise clatter, uninhibited expression, dissonance and derangement, odd synth textures, guitar torture (of course!), romance tunes for dead lovers, hints of Eastern revolution, and fallen angel song illuminating the shadows.
Track by track? Go on then…
Coll's drumming on Broken Soldier gives the opener a sense of fragmented grandeur. Mixed with Cunningham's trumpet, imagine Nordic Cool but way cooler, somewhat less Nordic, thoroughly dismantled, and the shards left to rust in the August rain… then shuffled and painstakingly reassembled into an abstract sculpture from which differing forms emerge depending on your angle of listening. That's my initial take, now make up your own mind:
On NYC Limits the fluid jitter of Rueda's guitar and Bela's throbbing bass rhythm fluctuate with occasional swells of distortion while Cunningham paints the electronic skies.
The free strumming intro on Fire Folk (Cunningham's vintage Danelectro?) flings me back to early 80s indie and no-wave; subliminal dissonance seeping out around the edges of the jangle.
Tracks like Velvet Love confirm my impression from previous album "Deep Red" that BQ's music is often like an alternative soundtrack to Jim Jarmusch's vampire pic Only Lovers Left Alive (which I love, so that's intended as a compliment).
Chemistry of Tears is classic (after just two albums? why not?) jagged Blood Quartet free interplay.
In the appropriately-titled Surfing Rueda, the guitar channels Dick Dale through a gothic jazz-noise filter as the rest of the band orbit with frenzied abandon – this is the dance track, if you want one.
The loose chaos of Jandek is dissonant, dissolute, refuses to hit the ear straight on, and rightly so if the title is anything to go by. As to what Invoke is summoning, whatever it is, it requires coaxing into our world with a dense carpet of distored prayer.
The haunted organ tones of Stress of Her Regard are gradually enveloped in a mist of drums and synth that coalesces into a tight psychedelia supporting Coll's fever dream vocals.
First seen on "Live Red", Eigenlicht is a bitter sorbet of sound, a palate cleanser before the soaring title track closes proceedings. All the many BQ nuances are brought to bear on Until My Darkness Goes in a heartfelt, pleading lament in which ethereal voice and trumpet converse with delicate precision and restraint.
There's no shortage of the usual dense, gritty noise but perhaps it's the balance, or simply the order, but taken as a whole, I'm left with the impression of a deeper, more thoughtful album than "Deep Red" – more open, more naked, more heart. The raw emotion haunts long after the last silence has fallen. The different constituents have gathered under their own inevitable attraction to a denser, more brutally honest whole – the essence of Blood Quartet, plummeting/soaring beyond the event horizon of opinion. Beauty with a saw-toothed edge.
–
Blood Quartet on Facebook
Blood Quartet on Bandcamp