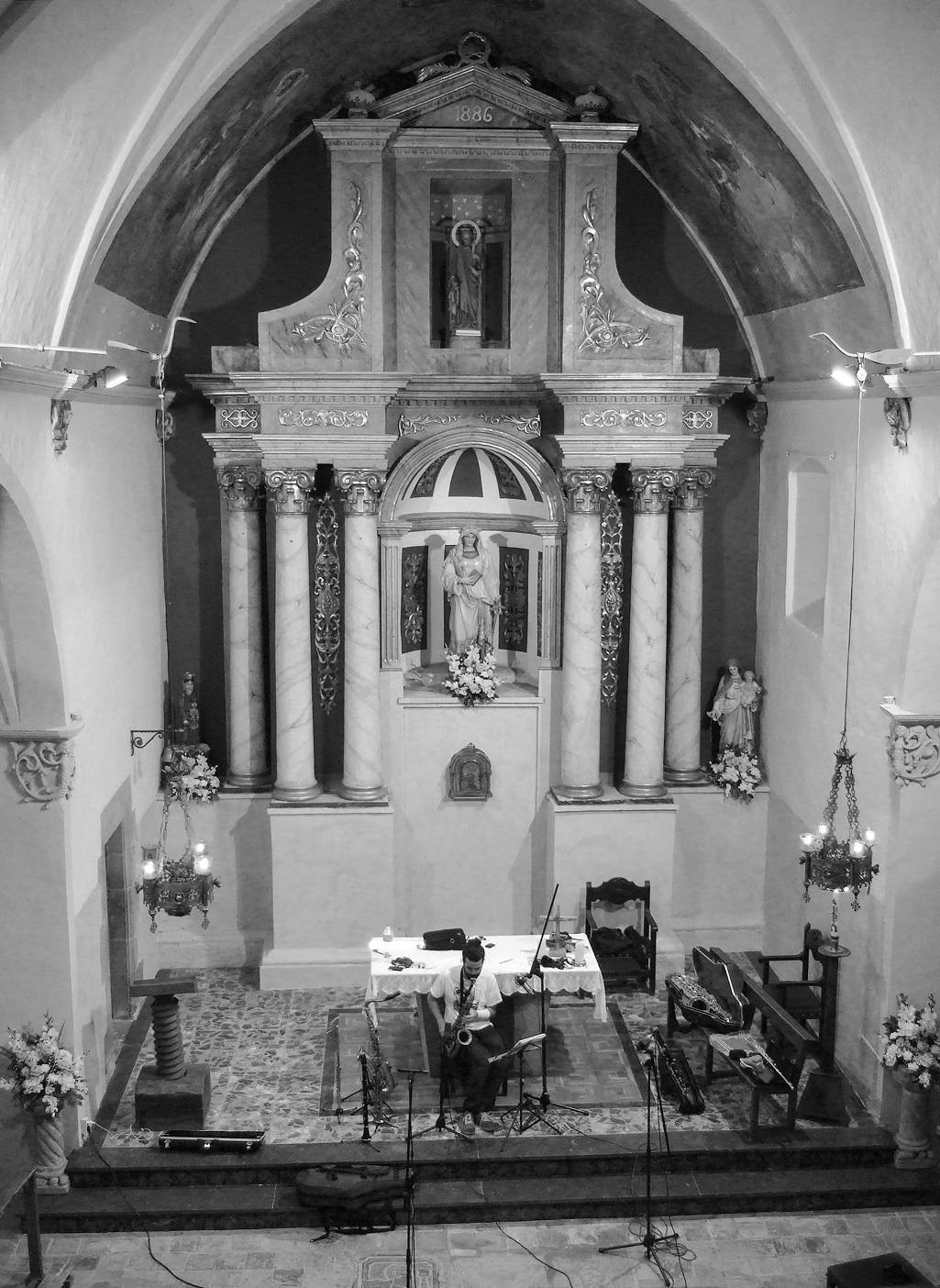 No stranger to the 'pages' of aJazzNoise (his disc "1680" was in the aJN top ten for 2014), Marcel·lí Bayer is undoubtedly versatile – from big band to solo performances, material that honours the jazz tradition or free soundscaping, his playing can be sweet and lyrical or pure noise… the unifying factor is a dedication to the sound; in his own words, it "has to be connected with the inner self."

(title picture © Alexandra Garzón)
1. What was your first musical instrument, and what did it mean to you?
I began clarinet lessons at the age of eight. I was very lucky to have a wonderful teacher, Ricard Peraire, who generously shared his knowledge of music with me until I was eighteen. He was a classical player but also an open-minded and very spiritual human being. Through the years, I have realized how big his influence has been in my life as a musician and as a teacher.
2. What was the first music you ever bought, and the most recent?
Just before my 10th birthday, in 1992, I spent one month in Regensburg with a German family to improve my German skills (since I was receiving a German education). They had The Beatles tape "Please, Please Me" running all day through. When I left town, they gave me a copy of it, so this was my very first tape!
A month later, I spent all my little savings on another tape, an "Elvis Presley Greatest Hits" collection. I still have them both.
The most recent music is two Steve Lacy solo albums called Axiemes, which I purchased last week in LP format.
3. What's the starting point for a composition?
It's like feeling that the last notes you've played can be the starting point of something.
I always compose in a very practical way, just playing around with one of my instruments until a musical idea suddenly appears and evolves. It also has to be connected with the inner self. I can have really very intense creative periods but they can also stop. When that happens, it doesn't really affect me too much; I just try to do something else.
4. What are your non-musical influences?
There are many.
Family of course: my mother, who is a passionate mathematician with a strong cultural wisdom. As well as my future wife, who has also a big personality and a rich cultural life.
Photography plays also a big role for me. I like to learn from the masters, to go to exhibitions, to read about them and I also spend a lot of time taking pictures and developing film rolls at home (a look at the results can be taken at www.flickr.com/photos/marcellibayer). My favorite photographer is Josef Koudelka, a true master of this art and a really inspiring human being. I also like the work of Fan Ho, Elliott Erwitt, Garry Winogrand, Cartier-Bresson, Saul Leiter, Nicholas Dominic Talvola, and many others.
5. You've played with Lee Konitz – what's it like playing in such 'heavyweight' company and what did you bring to the party?
It was a dream fulfilled. Konitz is one of my favorite musicians ever and I can still feel my excitement when he agreedto play and record with us. "Us" means "Nonitz", a nine-piece ensemble I created back in 2010 to play Lee's compositions as my Final Project at the Esmuc College, in Barcelona. I brought to the party my original arrangements of Konitz's compositions as well as the logistics to make the record happen, featuring Konitz himself.
It would not have been possible without the enormous help and generosity of all the musicians involved and the Catalan drummer Jorge Rossy, who introduced me to Mr. Konitz.
6. Where do you stand on the streaming/downloading/file-sharing/musicians-not-getting-paid-for-their-music debate?
Well, I think that we have to take into account that there are very different aspects which play a role here.
We are not living in easy times. Big corporations struggle and compete to get all the power and attention from a society which is constantly forced to become more and more individualistic. We have to be aware that, each time we buy something, we are also carrying out some sort of politics. It's very hard, if not impossible, to live a 100% contradiction-free life. One can be a musician asking for a fair price for his job but each time he streams on Spotify or spends money on music platforms which don't pay musicians properly, he places himself at one side or another of the scene. And the same can be said concerning the food industry, clothing, banking, big energy companies and so on. Meanwhile, I don't stream music anymore and try to buy all the music I listen to. If possible, I buy it directly from the artists or go to local stores.
Some months ago, at home, we placed the TV in the closet and replaced it with a good turntable and CD player and with a good pair of vintage speakers. I really enjoy that ritual of listening to records with a good sound quality which is something that streaming did not provide me.
The Internet can be an interesting place for promotion but, at the same time, it offers a lowering of the sound qualities due to the high compression of the files. Besides that, those disrespectful decision, not paying musicians for their work which so many corporations, record companies and streaming sites usually do is something that we must not allow.
7. What's next? (musically, geographically, recording, tours, ensembles, anything…)
For the moment I plan to stay in Barcelona, my hometown. I love to be part of the underground musical scene in the city and to play with so many inspiring musicians.
I will be working on the projects I'm currently involved in (Memoria Uno, La Sal, Bindu, ISCCJMKMB, Arnau Obiols Libèrrim, Martin Leiton's Poetry of Sound as well as his Big Band, the Robadors 23 Free Sessions which take place every Thursday, etc.) and some new ones as a sideman (a Spanish tour in the fall with Taiwanese vibrafonist Yuhan Su, for example).
I also plan to continue my regular solo concerts at Robadors 23 as training for something bigger. This summer, I have been performing some exciting solo shows in new environments as forests and open air spaces. I feel that it has been the beginning of something new but, actually, I still don't know where it will lead to.
Besides that, I have also my regular work as a teacher at "Taller de Músics" which is very fulfilling due to the lovely students that I have there.
–
For a selection of Marcel·lí's work as leader, try the following (all available from www.marcellibayer.com):