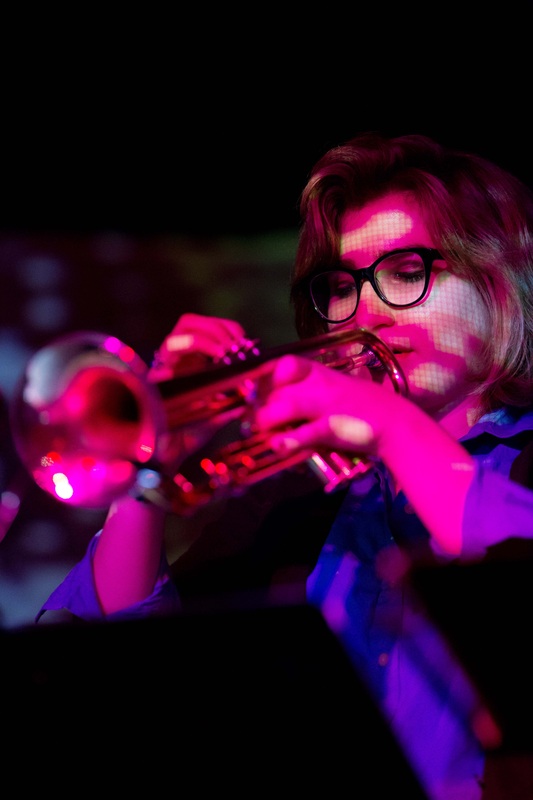 The latest release from Fleaboy Records is the eponymous disc from the DeiCont | Philips Collective. A truly collaborative effort, it's eloquent, exploratory, firmly in the jazz category yet not in the least beholden to past sounds or clichés. Fundamental to the group's sound palette is  the trumpet of co-leader Allison Philips. Allison's 7 answers here remind me of her musical statements: concise, to-the-point, expressive, engaging, and leaving you wanting more. Well, that's what the album is for, no?
1. Name an experience that contributed to your becoming a musician?
I guess the first experience to come to mind would be my time in the "Jazz Standard Youth Orchestra" which my mother quite randomly signed me up for when I was 13 or so. This was a program on Sundays at the jazz club, "The Jazz Standard." It was different to your average pre-college program because you actually performed every Sunday, with just a short rehearsal in the morning. It was fairly high pressure, and gave a pretty realistic image of what it's really like to be a working musician. I definitely wouldn't be here without it.
2. What's your 'guilty' listening pleasure? (i.e. something you listen to in secret? or if you have no secrets, what might people be surprised that you listen to?)
I am a sucker for top 40 hip hop, reggaeton, you name it. Especially while driving.
3. What's the starting point for a composition?
My starting points vary, it depends if the work is commissioned for a specific purpose or not. I find a lot of inspiration in Bartok's Mikrocosmos though.
4. What's the one quality you think every musician must have?
Musicians need a sense of humor. It's a tough business; it's no fun if you take it too seriously.
5. What or who do you turn to for inspiration when you need it?
This also depends. Of course, favorite recordings of mine. Occasionally novels or short stories. Truman Capote is my hero.
6. Where do you stand on the streaming/downloading/file-sharing/musicians-not-getting-paid-for-their-music debate?
This is a tough one. I think for independent artists these platforms and their accessibility are super important. You no longer need a high profile record deal to make your music heard. That being said, it sucks, hopefully a solution will be created eventually,
7. What's next? (musically, geographically, recording, tours, ensembles, anything…)
Currently I am on tour with my band with Mike DeiCont, The DeiCont | Philips Collective. We just released a new record, and we're very excited about it. You can of course find it on the Flea Boy Bandcamp page. I have some fun stuff in the works in Amsterdam this fall. Currently in the process of curating a small, new jazz festival (updates on this soon). As always just trying to play and write as much as possible.
–
http://www.allisonphilips.com
…and on Facebook
Cover picture © Dirty Sugar Photography