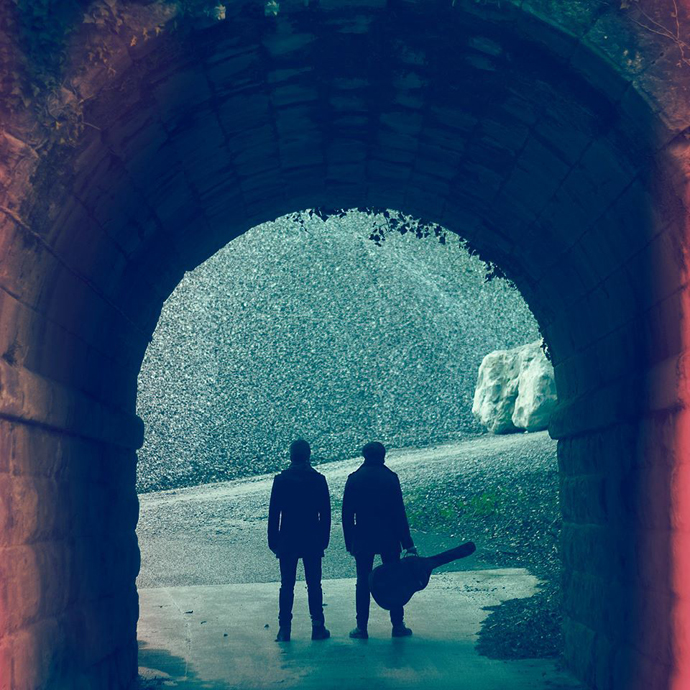 (This review was originally published in Jazz Journal in December 2014.)
Hugo Selles (piano, keyboards, percussion)
Quico Duret (guitar, electric guitar)
(Prelude) Here Am I
Where Past And Present Collide
(Interlude) Beholding
'Gran Via' At Sunset
(Epilogue) Walking Alone
(Reminiscences) Lost In The Crowd
Train Back Home
(36:55)
Recorded 2011-12
HSG0001
Psychic Equalizer is the project of Hugo Selles, a Spanish pianist who, in this ambitiously realised suite, draws on a variety of influences – jazz, rock, ambient, electronica – to tell an auditory story of the loneliness of living in a big city. Judging from various accolades that can be found online, Selles is obviously well-regarded as a composer and he certainly utilises a variety of textures and moods.
The opener Here Am I is somewhat lonely: a slightly belligerent declaration layered over a delicate vulnerability. The sound has a dry, thin tonality, evoking a bygone era which suits well the timeless story of the new arrival in a big city; overwhelmed, uncertain, but determined nonetheless. From this confident start, the album proceeds through a number of themes and moods. The search for self of Where Past And Present Collide, the reflection and hesitant exploration of Beholding, the low-end blues-y swagger of 'Gran Via' at Sunset that resolves into a sense of peace and balance. The story could (and perhaps should) end with the funky upbeat Walking Alone (after all, it is billed as the epilogue) but the two bonus tracks fit seamlessly, apparently continuing the tale, bringing it full circle with Train Back Home, which returns to the sound picture of the opener and finishes on an optimistic note.
This release also comes with a copy of Selles' previous EP, Memories From a Cold Place, that refers to his Cantabrian origins (the north coast of Spain does not enjoy the stereotypical sunshine of the Mediterranean Costas). This earlier disc offers a foreshadowing of some of the themes and refrains from the new release but framed in a slightly more 'rustic' context. In that sense, it serves as  a perfect companion suite to the more urban Madrid – your choice of whether you listen to it before or afterwards will, of course, affect the narrative.
–