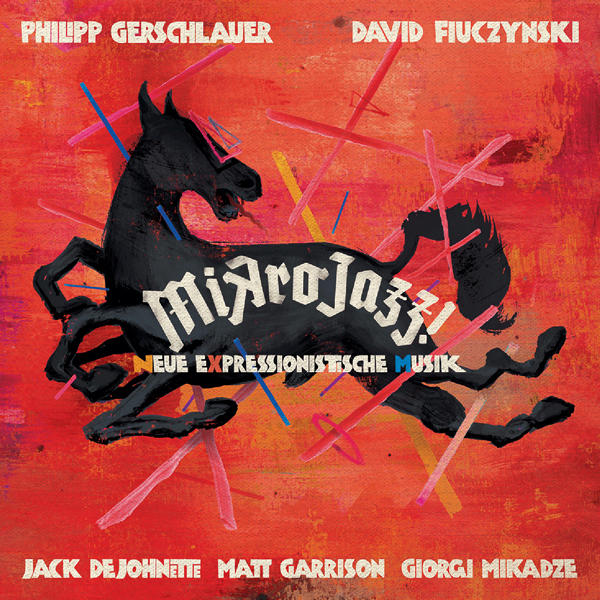 This review first appeared in Jazz Journal in 2017
Philipp Gerschlauer (as)
David Fiuczynski (fretted and fretless guitars)
Jack DeJohnette (d)
Matt Garrison (fretless bass)
Giorgi Mikadze (microtonal keyboards)
Mikrosteps
Für Mary Wigman
Lullaby Nightmare
MiCrOY Tyner
Umarmung
Last Chance
November
Hangover
LaMonte's Gamelan Jam
Walking Not Flying
Sofia Im Türkischen Café
Zirkus Macabre
(63.54)
Clubhouse, Rhinebeck, NY, June 27th to June 30th 2016
RareNoise RNR083
What happens when two microtonal explorers meet? Gerschlauer has been doing his thing for a decade now, incorporating 128 notes per octave into his jazz compositions. Fiuczynski is head of the Plant MicroJam Institute at Berklee, combining strong grooves with microtonal colours (witness his two previous RareNoise albums, "Planet MicroJam" and "Flam! Blam! Pan-Asian MicroJam!"). The results are far from experimental for the sake of experiment: an hour of music always engaging, often swinging, and deliciously (but accessibly) off-kilter.
The album is subtitled, "Neue expressionistische musik" and where Fiuczynski's theme last time was Olivier Messiaen and JDilla, this time, it all links back to Expressionism, the early 20th century German art movement that offered subjective perspectives, distorted radically for emotional effect in order to evoke moods or ideas (thank you, Wikipedia). Here, there's no end of distortion once the comfortable scales are thrown away and all this sliding, slurring and slipping through the gaps has a dream-like quality, a distorted reality that can flip from pleasantly languid to unnervingly tense in a beat…
As for the rest of the quintet, what a line-up! The hyperactive drum patterns that begin Umarmung showcase DeJohnette's effortless innovation throughout, layered with the more spacious between-the-gaps melody line from Gerschlauer's sax and Mikadze's non-chromatic bell-like keyboards – the contrasting densities create a complicated, otherworldly experience that ends up both disturbing and quite moving; a kind of musical fairy tale (before they were sanitised for younger readers/listeners). Garrison's bass is simultaneously swinging and elastic (check out what's going on beneath the Dolphy-ish Walking Not Flying). And against this backdrop, on MiCrOY Tyner for example, Mikadze shows his subtle touch with appropriately Tyner-ish piano lines which, listen closely, contain subtle microtonal messages – fresh and often unheard tonal colours used with restraint and taste.
The press release quotes Ornette Coleman: the shape of jazz to come. Is it? Well, by now that's a tree with a lot of disparate branches but "Mikrojazz" represents refreshing and vigorous growth in a new direction. It's also a lot of fun.
–