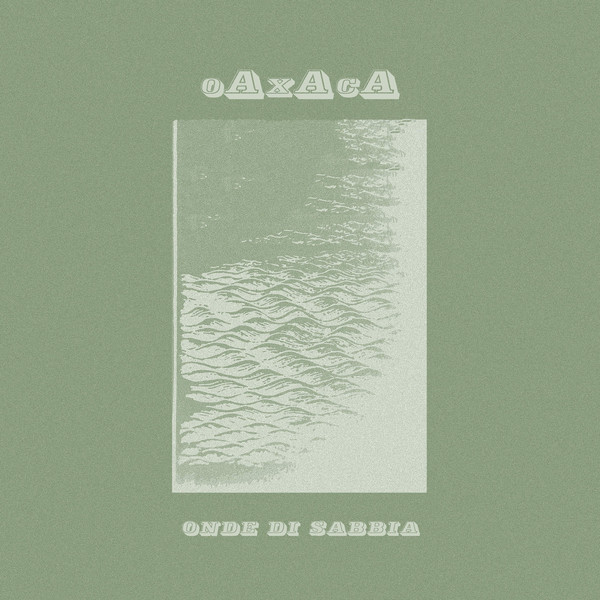 This album is a unique trip. oAxAcA's influences are obviously wide, varied, and only partially identifiable… the result is an elegantly balanced cocktail of solid rhythms, bent blues, grandiose riffs, and subversive composition.
From the off, Trittico thumps and pulsates its way into your cerebral patterns while strangled, decomposing guitar lines spill across the rhythm like spatters of ink on text. It begins by evoking Big Fun-era Miles Davis but with more of a broken-phrase approach to the guitar. The mid-section is free and funky, the bass bubbling away, pushing from below at the guitar's abstractions. Finally, a slow, expansive drum-led section with joined guitar/trumpet accents remind me of David Axelrod. Onde di sabbia toys with a simple trumpet phrase that twists slowly in the breeze as gusts of percussion buffet past.
Side two begins with Reich, all twang and uplifting horn; it's funky, spacey, the feet move, the toes tap… (BTW, I can recommend the vinyl format – the brief pause while you flip the disc is perfect to punctuate the sylistic shift between Onde di sabbia and Reich). The warped fiesta groove continues with 8/7's lurching time signature (ears at an angle of 102˚, please), pushing an avant-Brazil ambience interspersed with slabs of free jazz violence. In 640 Blues, everybody plays a blues, just not necessarily the same one. The result is a dreamlike, lucid, slow-motion guitar crash, slowly devolving in electronics and field recordings.
Finally, Pannella is another monster bassline, threatening to become a once-thought-lost prog-jazz odyssey, except… while the trumpet and guitar are loyally supporting the groove, the noise/electronics are way too subversive to permit anything obvious to happen.
oAxAcA have a gift for combining gorgeously inviting rhythms (the aural equivalent of comfort food) with non-typical sounds and textures; genre magpies with an eye for subversion, it's in your fact, unashamed, and hiding a wealth of subtlety in plain sight.
This is one of those albums. I finish listening, I want to hear it again. I finish listening, I want to hear it again. Like the teenage me, wanting to get the most out of a rare, new purchase. A feeling of giddy enthusiasm I feel all too rarely these days.*
Trittico
Onde di sabbia
Reich
8/7
640 Blues
Pannella
(40:08)
2 Headed Deer Records
Ivan Grosso – percussion, noise
Diego Viada – trumpet
Tato Filipazzi – bass
Alberto Dutto – guitar
Mattia Bernardi – drums, percussion
Stefano Isaia – clarinet, sax (on #3 & #6)
Onde Di Sabbia is available for download and on vinyl from 2 Headed Deer's Bandcamp page.
*Incidentally, only a few records have bestowed that "giddy enthusiasm" in the last decade or so. For the record, they include Hedvig Mollestad Trio's Shoot!, Sunwatchers II, The Near Death Ensemble, and Teppo Mäkynën's Stance Brothers.