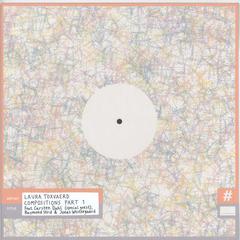 (An edited version of this review was originally published in Jazz Journal in January 2017)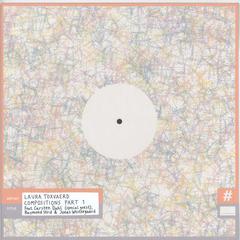 COMPOSITIONS PART 1
Laura Toxværd (alto saxophone, vocal)
Carsten Dahl (piano)
Raymond Strid (drums)
Jonas Westergaard (bass, vocal)
Rawhide
Tickled
Quarrel
Shyster
Urnable
Vowelly
(41:47)
Copenhagen, March 17th 2016
ILK Music ILK261
COMPOSITIONS PART 2
Laura Toxværd (alto saxophone, clarinet)
Jeppe Zeeberg (piano)
Rune Lohse (drums)
Nicolai Kaas Claesson (electric bass)
Qua
Vow
Urn
Raw
Shy
Tic
(32:05)
Copenhagen, March 17th 2016
ILK Music ILK262
Toxvaerd is a well-established performer and composer on the European scene. This pair of recordings (available on download and LP only, as part of ILK's limited White Label series) are part of an artistic research project at Copenhagen's Rhythmic Music Conservatory, combining composition, improvisation and visual art. The "visual" component is the use of graphic scores instead of standard musical notation, allowing a more fluid interpretation of the composer's wishes. The result is a mix of experimental soundscapes and passages that are more recognisably jazz (though hardly conventional), usually within a single track.
Notable moments include Toxvaerd's stripped, powerful tone on Rawhide, the initial minimalist precision support merely a springboard to a long alto lament. Both Dahl and Westergaard's sensitivity comes to the fore on Tickled, taking turns to pick out the bare piano and bass bones of a melody on either side of the folk-ish vocals (underpinned by Strid's free percussion creaks) that briefly turn it into a slow lurching waltz. Quarrel includes a free jazz blitz, Shyster is mostly improvised percussion, Urnable a series of condensed abstractions (and more vocals), and Vowelly is the urban environment translated to pure sound. Then comes the twist.
The second session features Toxvaerd with a new set of accompanists and a very fresh interpretation of Toxvaerd's pictorial scores, sometimes seeming to be the same compositions (the truncated titles are a clue) yet at others appearing to be completely different pieces, or at least the same components reassembled (e.g. the opening of Shy is a saxophone solo resembling the Rawhide solo mentioned earlier). For example, Claesson's electric bass brings a much denser timbre than Westergaard's acoustic and combines with Lohse's drums to thunderous effect on tracks like Vow. Likewise, Zeeberg's approach to the ivories seems to be darker overall than Dahl's. But while Part 2 might be the heavier sibling, it still features moments of thoughtful beauty, witness Toxvaerd's clarinet on Urn. Really, the dual-disc/dual-ensemble nature of the project just goes to show how widely varying the interpretations of different musicians can be – and thank your personal household deity for that, say I.
If you like labels, Toxvaerd's music has been called "eurofolk-ethnic", "heavymetaljazz" and "geometric post-jazz" but whatever the etiquette, this is an exemplary selection of jazz compositions, self-contained, stylistically varied, beautifully executed and, so far, endlessly fascinating.
–