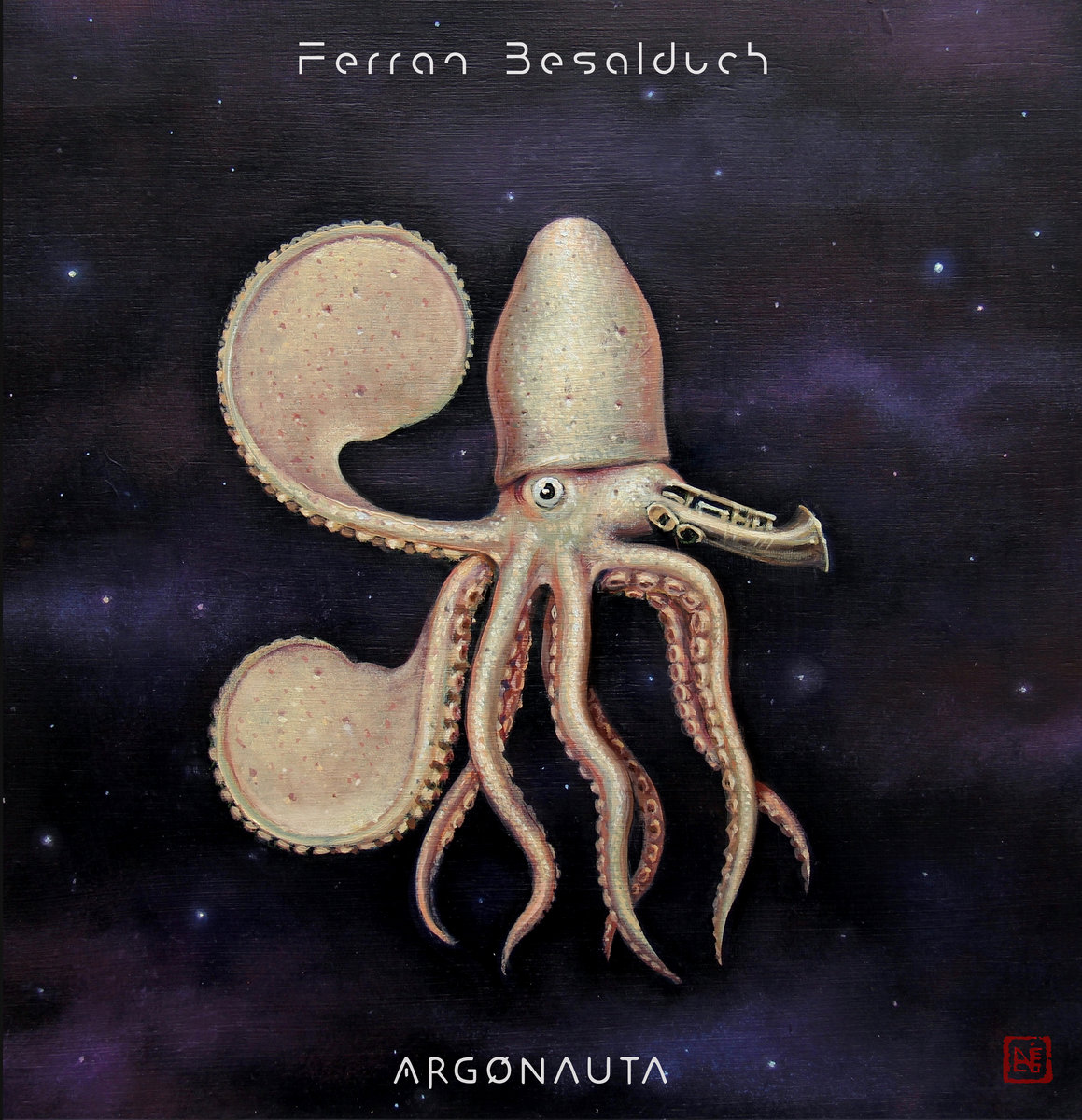 Welcome to the alien world of Ferran Besalduch. From the highly evocative mutant cephalopod* on the cover  to the sonic and thematic threads used to weave a coherent musical experience, this is pure concept. Using just bass saxophone and saxellino with a boatload of effects, Besalduch has created a gloriously artificial natural world… a self-contained ecosystem of treated sounds that operate in relation to each other but owe little to any other musical zone.
You've seen the deep ocean documentaries. Weird, not-of-this-earth creatures emerging out of the gloom – beautiful infraterrestrials, terrifying beasts, and always more darkness, more pressure below… This is exactly that, translated for your ears. Silence as an analogue for the absence of light, and out of that absence emerge aquatic cries, bubbles and booms from the deeps, sounds dangle like lures, points of dreadful light in the surrounding underpsace. Drawn irrevocably further in and down, not knowing if you're an explorer or simply part of the food chain.
Let's face it, any vaguely experimental saxophonist has probably blown through a bucket of water at some point, or flirted with the pelagic end of the effects pedals and gadgetry spectrum. But I'd suggest few have done it with such art and commitment as to create an intricate and consistent soundworld that lingers after the tone arm lifts.
"Argonauta": the avant Jacques Cousteau soundtrack you never realised your collection was missing.
*Despite much googling, I still can't definitively identity the eight-legged bugger in Avelino Saavedra's design – maybe there just are no sax-mouthed octopi, even 20,000 leagues under the Mediterranean.
Learn of the little nautilus to seal
CARINA
VOLANS
PYXIS
Spread the thin oar
COLOMBA
PUPPIS
VELA
And catch the driving gale
(34:22)
Call It Anything Records
Ferran Besalduch: saxellino, bass sax, hurgy toy & electroacustic set
Argonauta is available on vinyl, CD or download via Call It Anything Records