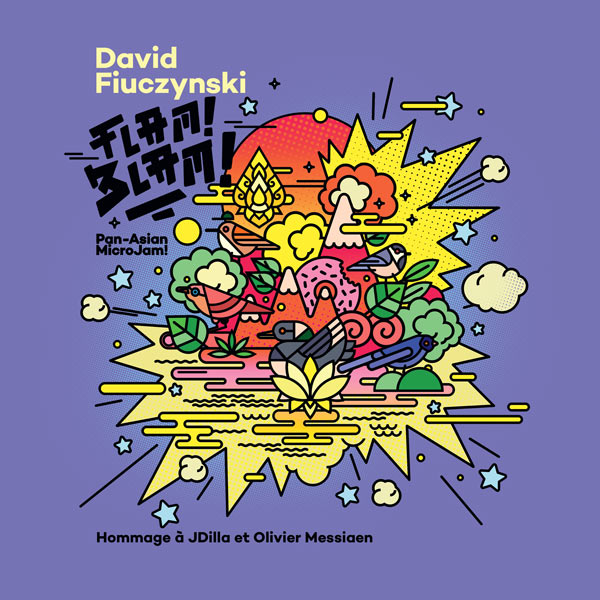 (This review was originally published in Jazz Journal in September 2016.)
Loon-y Tunes
Dance of the UiraPuru
Flam
Q&A Solitaire
Oiseaux Jdillique
Gagaku Chord Candy
Waldstimmen
Uira Happy Jam
Organ Wren
Loon-Ly Solitaire
(47.03)
David Fiuczynski (fretted and fretless guitars, piano)
Helen Sherrah-Davies (violin)
Yazhi Guo (suona, Chinese percussion)
Utar Artun (microtonal keyboards, electric piano, synthesizer, piano)
Jake Sherman (microtonal keyboards electric piano, synthesizer, piano)
Justin Schornstein (fretless bass, effects)
Alex 'BisQuiT' Bailey (drums, bells, percussion)
Rudresh Mahanthappa (as)
Location and dates unknown
RareNoise RNR058
First, some disclosure. Though it may make me a bad person, I am ignorant of the compositions of Olivier Messiaen, nor do I have even a passing familiarity with the music of J Dilla, Gagaku (ancient Japanese imperial court music) is also beyond my ken, and I'm no ornithologist. However, I can say that even without this knowledge of the ingredients David Fiucynski has baked into this particular disc, it is still an astounding, incredibly enjoyable experience.
As director of Berklee's Planet Microjam Institute, Fiucynski has been exploring the notes between the notes and this is the second RareNoise recording to chart his course (the first was 2012's "Planet Microjam"). Here he fuses the above influences, including transcribed bird calls, into three-quarters of an hour of intellectual space-jazz groove for the open-eared (and -minded). To pick out a few highlights… the interplay of microtonal keyboard and guitar on Loon-ly Solitaire, the notes rubbing and sparking against each other; Sherrah-Davies' haunting violin on Q&A Solitaire; the twisted good times on Uira Happy Jam that are scorched to ash by Rudresh Mahanthappa's alto; the Zappa-ish intro to Waldstimmen (who'd have thought transcribed birdcalls = FZ?); and the sheer intensity (or insanity) of Oiseaux JDillique.
Bizarre, demanding, at times awe-inspiring, I can't help but feel if I understood it better, this would have been a 5-star review.
–