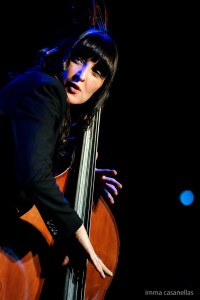 I first saw Giulia Valle with her quintet in Cafè Mandacarú, a tiny venue in Barcelona's not-so-dry Poble Sec neighbourhood, just a couple of days before they flew to NYC to play the Blue Note. After that blistering set, I wasn't at all surprised to learn that Giulia has won various composer and band of the year awards, is a well-respected jazz educator, and has attracted press commentary such as, "…extraordinary", "…deep, evocative, emotional and timeless", "Haden-ish", and "…going to be a star". Her latest project, Líbera, is a highly personal alloy of jazz, pop, dance and folk influences.
1. Name an experience that contributed to your becoming a musician?
Well, it's always a matter of coincidences and events that over time prove to you that this is what you want, and have, and need to do in life. I could mention many, many experiences: for instance, my first piano teacher, at 8… she was wonderful. She used to write her own studies for the kids, and really focused us on understanding the importance of the melody and the countermelody (left hand). I remember perfectly her songs: easy but very rich harmonically and melodically.
2. What was the first, and most recent music you bought?
I don't remember the first jazz record I bought. When I was in my early teens I used to buy lots of vinyl, from Jimi Hendrix to Blue Note. Although, I do remember the first jazz record that I was given, when I was 12: Charles Mingus, "Mingus Ah Um". And The very first CD I received as a present: Chick Corea "Again and Again". This is an incredible but unknown record that features the great bassist Carles Benavent. A couple of years ago, I played with him and his band in Barcelona, and at my request we did a couple of tunes from this record. I spoke to the audience, explaining to them how great it was for me to be playing this music, that had meant so much to me for years, with one of the actual members of the band.
And the last record I bought was Henry Threadgill & Make a Move's "Where's Your Cup?". I bought it on Amazon. That was the last CD. Now I buy a lot of music on iTunes. And I'm also going back to vinyl!!! I do not download music for free.
3. How do you bridge the gap between composition and performance?
Well, both things demand a lot of energy. I also teach at the Liceu Conservatory in Barcelona, and of course, lead my bands as best I can. The fact is, the more I'm into music, the more I need to be into music, no matter if it is compositionally, technically, teaching-wise or any other aspect. The more I'm connected, the less I'm stressed about doing everything well. Because I feel focused and anything I try to do, if I do it with a peaceful frame of mind, it works out fine. Suddenly I'm not pretentious anymore, I accept my limits and try to work on them in a humble and constructive way. This is the best path, in my opinion… but not always easy. We also need to love and experience all sort of things, and when life becomes too intense, then it's hard to stay focused. But this is also something necessary: without life we wouldn't be able to grow and learn, and eventually translate this to music.
4. What or who do you turn to for inspiration when you need it?
Just work, work and be focused.
5. In the last year or so, you've had a couple of trips to the States – what do you think of the music scene there compared to Barcelona or Spain?
What can I say about the United States? It's a country that despite all the contradictions, I just love. And the jazz scene is the reference point for any other musician in the world.
But nowadays there are also great things happening in Europe and many other countries, and Barcelona has a good and generous music scene. I say generous, because here I've learned a lot about common sense in music and "playing for the band".
6. Where do you stand on the streaming/downloading/file-sharing/musicians-not-getting-paid-for-their-music debate?
I don't know… This is just overwhelming for me. Does it really makes sense to make a record nowadays, unless you are a big star? (And in that case I'd say it is better to record for vinyl; at least the quality is better, and so is the graphic art.)
But coming back to your question, I'm really not ready to answer with anything constructive. Times have changed very fast and now it seems like many musicians, especially the "romantic" guys, really don't know what the "next step" is for the music industry.
7. What's next? (musically, geographically, recording, tours, ensembles, anything…)
I'm starting a new project with the Líbera ensemble, and we're about to release the first record. After the record launch (December 13th at Sala Hiroshima), I'll start working on the music with that band for a show with the dance company, Senza Tempo.
Also, I'm also working on the mixing sessions for a record I did with my trio at the San Francisco Jazz Festival this last summer.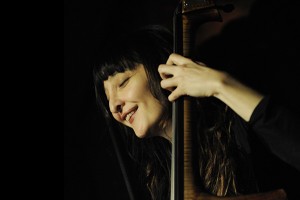 The albums, "Berenice", "Giulia Valle Group – Live" and others are available here.