Daniel James Ross is a self-described "human that likes sound". Well, most of us humans do, but very few of us compose and improvise using algorithmically manipulated sound material with custom software based on MaxMSP and slippery chicken (be careful if you google that!). Personally, I sometimes find computer-produced music to be either cold, harsh or both; but check out DJR's delicacy of touch on the Roddart track below – quite sublime (Roddart is his duo with trumpeter Jake Stoddart). Apart from utilising futuristic noise-making methods, Daniel is a PhD candidate in composition at Goldsmiths, London, and lectures in Music Technology at Morley College. His musical fingerprints are on Some Some Unicorn's second album, and compilations from Classwar Karaoke and NX Records. Daniel's also had work premièred at the National Museum of Wales, and the Brighton Fringe,
1. What was your first musical instrument, and what did it mean to you?
My first instrument is my voice and my love of music came from singing in choirs, which I still do today. I come from a large family and some of us have formed a choir. We perform about twice a year and there are live recordings available on our Soundcloud page.
2. Who or what are you listening to at the moment?
I am listening to recordings of Ian Simpson, a guitarist I first met when we both played in Some Some Unicorn. We have been paired up for a duo at the IKLECTIK BALLISTIK festival next month in London. It will be the first time we've played together so I am trying to find out as much about his style of playing as possible.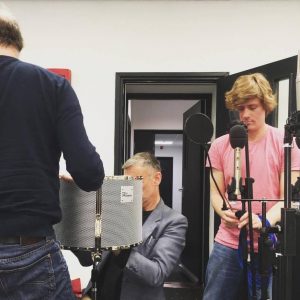 3. What's the starting point for a composition?
That depends on what I am doing. If it is for a solo live performance then I will prepare algorithmic manipulations of recorded material for my Max patch. If I am playing live with instrumentalists, then this material will be from a recording session of the player(s) at my home studio. In my fixed compositions I am working on a system that analyses field recordings and/or improvisations, extracting data for the basis of algorithmically generated pieces.
4. What is the oddest/least conventional sound you've incorporated into your music so far?
Algorithmically manipulated recordings of choirs and singers. My background in choral music is still a big influence and my juxtaposition of church music and the experimental music world is often a surprise for audiences.
5. How do you find and reach an audience for your work?
I use social media and my blog to document my compositions and performances. I also set up SEEM (south east experimental music) London to make a home for all the experimental music events in SE London. Though I don't use it to promote my music specifically it does list gigs in the area that I am playing at. Building and maintaining a community of like-minded musicians is the key to developing audiences for experimental music. I also co-organise Noizemaschin!! London with Sam Gillies, a monthly experimental night in New Cross. As well as providing a platform for local musicians and being a lot of fun it also helps to solidify the new music community beyond the internet.
[Having attended a Noizemaschin!! night, I completely recommend this smorgasbord of electronic and acoustic improvisation. Improvisers in London can express interest in performing at Noizemaschin!! here. – Ed.]
6. Where do you stand on the streaming/downloading/file-sharing/musicians-not-getting-paid-for-their-music debate?
Ideally everyone would buy all the music they listen to but I am a realist and as long as people are listening to my music then I am happy. I have a Soundcloud page that I regularly update with performance and compositions.
7.If money and time were no object, what would your next project be?
Something enormous with a full orchestra, improvising musicians, live electronics, and visuals. Think Kamasi Washington meets the Arkestra and Stockhausen.
–
Daniel's recorded work features on:
(Title photo © Steve Cropper)
(In case you're curious, as well as DJR the in-text photo shows – from L to R – Ian Thompson and Marcus Leadley)