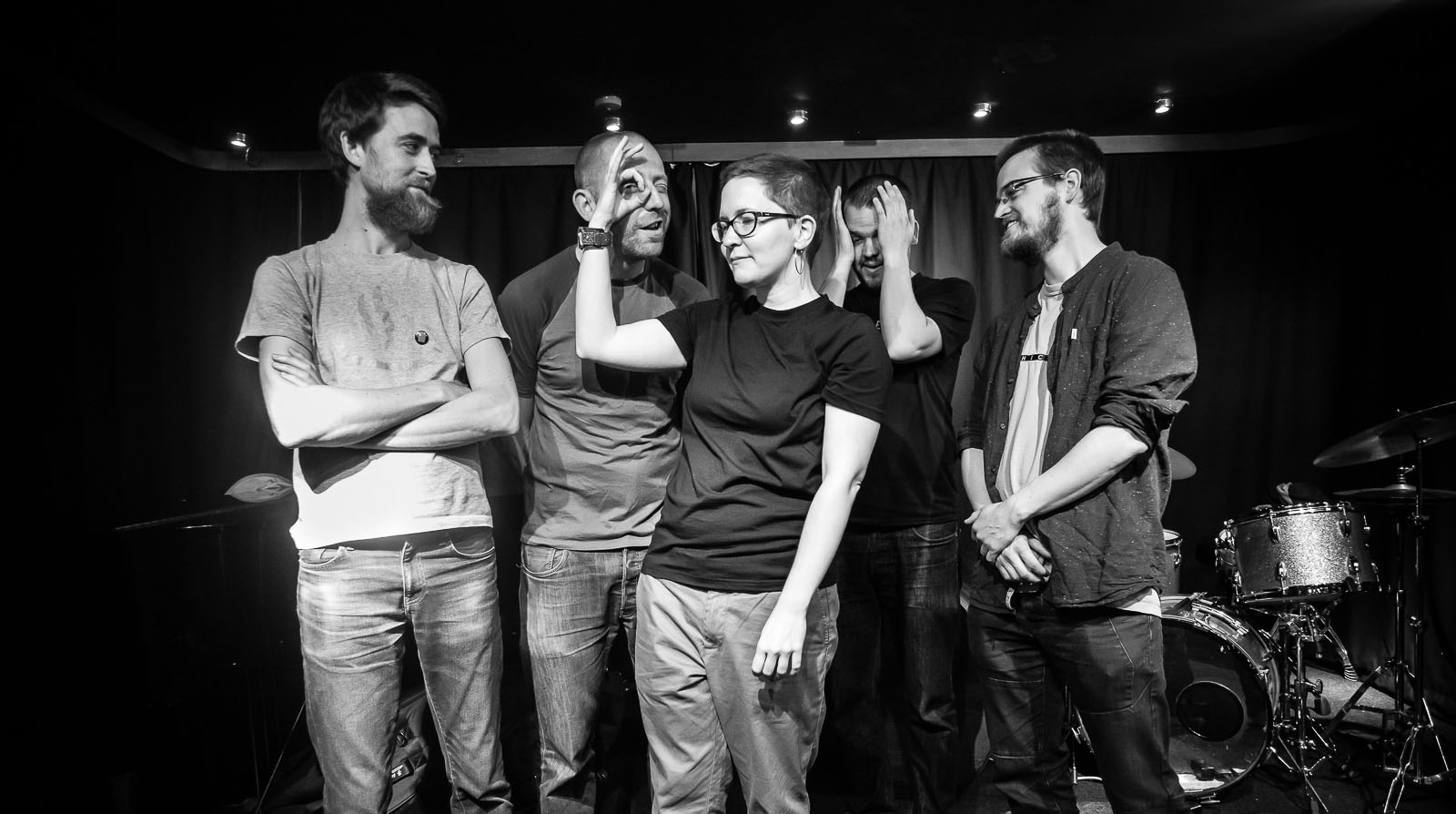 Baritone saxophonist and composer Cath Roberts is having a rather productive 2017. With three albums already released so far (Ripsaw Catfish's "Namazu", Sloth Racket's "Shapeshifters", and "Blurts/Growls" from a duo with Tullis Rennie) there's already an ambitious fourth in the pipeline – see the answer to Question 7 for details of how you can get your hands on it… Then there's her work as a co-founder of LUME, a charity devoted to new original/improvised music, including June's LUME Festival at London's Iklectik, and the LUME record label Luminous. None of which info tells you anything about her music, which strikes a perfect balance between abstraction and structure, is hugely exploratory and also genuinely engaging on a gut level and about which, judging from the following answers, Cath is entirely too modest…
1. What was your first musical instrument, and what did it mean to you?
I'm not sure but I think my first musical instrument will have been the recorder! But the saxophone came next, and that's what I've played ever since. Apparently I demanded to play the sax aged nine, and refused to try any other woodwind instruments. I don't know why….
2. What was the first music you ever bought, and the most recent?
Hmm. I was a huge fan of Take That when I was a kid, so it was probably a Take That single on cassette! It was all pure class in my early music buying years. The most recent release I bought was a pre-order of my LUME co-conspirator Dee Byrne's new album with Entropi, 'Moment Frozen'. It's out later this month, and they're doing a launch show at Kings Place on 29th September.
3. What's the balance of preparation vs. improvisation for the average live set or recording?
With Sloth Racket it's probably 50/50. I make scores that have a mixture of traditional music notation, some graphics and some text, and they form the basis of the pieces we play. But a huge amount is improvised in the moment, in the gig or session. We collectively create finished pieces of music out of skeleton frameworks. I'm interested in that and I'm changing my approach all the time as I write new stuff for the band. It's fascinating, and luckily for me the band members are all great improvisers so they always make something good out of whatever random thing I put in front of them.
4. What qualities do you look for in a collaborator?
Er, must be willing to finish writing my music for me during the gig? No, I don't know, I haven't chosen my collaborators, I've just ended up working with lots of really cool and inspiring people over time… they'll realise what's going on soon enough though and I'll have to go back to my old Take That cassettes.
5. Does humour belong in music?
Yeah. Humour belongs in the rest of everyday life, so music shouldn't be an exception – although obviously there's a time and place…
6. Where do you stand on the streaming/downloading/file-sharing/musicians-not-getting-paid-for-their-music debates?
Well, I'm a huge fan of Bandcamp for this. It offers a really great, artist-friendly way of sharing music – and selling it too, if you want, for however much you want, or however much people want to pay. For me, I think having an album streaming on Bandcamp is a brilliant way to sell copies, both physical and digital. It's a really powerful tool, especially for an artist releasing their own stuff, or for tiny DIY labels (like our LUME label Luminous).
7. If money and time were no object, what would your next project be?
Looking at the project I'm working on right now, you'd think it had been planned by a person who thought that money was no object. I've just done a recording with a ten-piece extended Sloth Racket lineup (currently billed as Favourite Animals! – Ed.), and I'm crowdfunding to raise the money to finish the album at the moment. I'm not quite sure how I got into this situation! It wasn't the most sensible plan, money-wise, but we were all so pleased with how the music went and I can't wait to get it out there. The crowdfunder is for the musicians' and engineers' fees, the mixing and mastering, and the production of physical albums. All being well it will go out on Luminous in December. So if any readers fancy pre-ordering the album and/or helping themselves to some campaign perks, they can head over to the Indiegogo page and help make it happen…!
(You can find the Favourite Animals crowdfunder here – go on, treat yourself… and them.)
–
Title image © Agata Urbaniak