Yoko Miura (piano)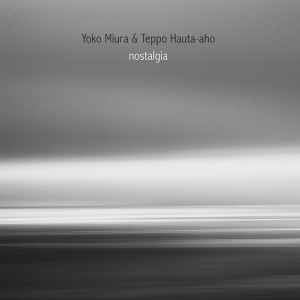 Teppo Hauta-aho (bass)
Anxiety
Nostalgia
Chase Up The Shadows
Silence
(62.24)

Helsinki, 19th November 2013
ODD7 Recordings ODD7001
There's something about a duo improvisation… the maximum potential freedom while still being tempered by the necessity for close listening. It's hardly a guaranteed format, but when it does work – as in the case of this first release from ODD7 – it can be the perfect balance of spontaneity and structure.
Both artists here have backgrounds and formative influences that include classical as well as jazz (Hauta-aho played in the Helsinki Philharmonic Orchestra for years) and across the multifarious elements of these four improvisations, both sets of roots are evident in a playful fluidity and ceaseless exploration.
The first piece, Anxiety, actually seems to consist of two separate improvisations. In the first, tiny melodies burst forth, are developed and abandoned in turn – there is a sense of lightness and agility, like musical stepping-stones, never remaining in any one place. And despite its 20-minute length, the restless pace of change and evolution refuses to relinquish the listener's attention; no mean feat. The second half (after a prolonged silence which, if I'm going to be picky, could've been edited down or out) consists of more sculptural sound production and less traditional techniques – equally fascinating.
Moving on to the title track, Nostalgia is indeed nostalgic. Opening with a prolonged arco meditation from Hauta-aho accompanied by sparse but beautifully chosen lines from Miura; if you like your improv to come from the 'Nordic melancholy' category then look no further… Some of the melody is almost familiar and I wouldn't be surprised to learn that this is improvisation on an existing composed theme. Or maybe not. Either way, it's rather haunting and if you ever find yourself alone, sipping vodka, staring out across a snow-swept landscape and contemplating the sad-happy story of your life so far, this is your soundtrack right here.
As for the third piece, Chase Up The Shadows, here it is:
Finally, Silence begins appropriately minimalist… in fact, it begins with almost a full minute of Cage-ian audience flutter and ends with a period of absolute nothing, before the audience decide (or are permitted) to applaud. Nestled in the middle is a handful of notes and sounds, a delicately-painted audio miniature.
"Nostalgia" is available from ODD7's Bandcamp page.