Luiz Rocha (clarinet, bass clarinet)
Diego Caicedo (guitar)
Marko Jelača (drums)
Tom Chant (tenor and soprano saxes)
RCJ can be found here on the first Saturday of each month. The first time I tried to catch them, I couldn't find the venue due to Plaça Milans' somewhat nebulous existence on Google Maps. Better prepared this time, we're the first to arrive and take our pick of a selection of rickety chairs and settle down with a beer to wait…
The twin woodwinds launch into an understated fusillade of tongue slaps, eerie ululating wails, and just simply pushing air through the 'pipe'. It sets a darkly ambient mood, enhanced by occasional cymbal scrapes and quiet percussive tings from Jelača. As Rocha and Chant move into a more incantatory mode, Caicedo adds some guitar-based sounds to the mix, placing a metal plate flat against the strings, above the pickups, and then tapping and scraping at it with a thin steel rod – what results is a series of echoing (occasionally thunderous) soundbombs. It's a disjointed and spontaneous narrative, with each contribution both a response and a question.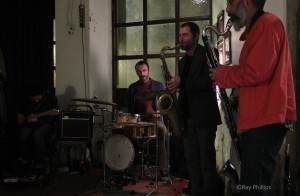 As a one-time guitar geek, I was quite fascinated with Caicedo's setup. First, the guitar is a 1980s Ibañez (a Roadstar, I think) and although it looks like a Stratocaster, it's probably a better guitar than any Fender was making at that time. Along with 'straight' playing (i.e. fingers plucking strings), Caicedo utilises a number of extended techniques – the metal plate mentioned earlier, ridged metal rods that rub against the string windings, tiny metal hand-cranked music boxes above the pickups, and all fed through a variety of effects pedals and a Vox practic amp. It's a varied palette and one that suits the delicate quirkiness of Jelača's drumming and the restless experimentalism of Rocha's bass clarinet. And then there's Chant, who brings a strong identity to any ensemble and, according to Caicedo later, pushed the regular trio to create a denser soundscape than usual.
Suddenly, as if by unspoken instruction, the density and intensity of sound increases. Jelača ups the volume with a controlled every-part-of-the-kit attack, Caicedo lays down a series of very horn-like lines with an overdriven yet clear tone, while the 'frontline' twist the sound into a rising spiral – all effortlessly rising to a kind of freely improvised satori. It's a rush, and looking around, it was one of those moments when the audience as a whole was completely present in the music. Still, what's that koan-like phrase? Before enlightenment, mountains were mountains and rivers were rivers. Suddenly, the mountains were no longer mountains and the rivers no longer rivers. And after enlightenment, the mountains were mountains again and the rivers were rivers. Everything is fleeting and blissful moments doubly so. But worry not, like buses, there'll be another one along in a moment… so long as you pay attention to the road.
Perhaps it's the room, but in the post-moment afterglow, Rocha's clarinet seemed to disappear; the delicacy of the playing masked by the other instruments as the sonic balance tilted a little too far in one direction… but then, shifting gears, a series of longer, more drawn-out calls – leaping up and down the instrument's range, from low bass growls to higher-pitched mournfulness – restores the equilibrium and against a backdrop of angular brushwork and dislocated note clusters from the guitar, the two horns quietly oscillate in unison and bring us gently to rest. And that was just the first of three pieces.
So, to repeat: the first Saturday of each month, RCJ at Taller Milans. And that's my very best advice to you.