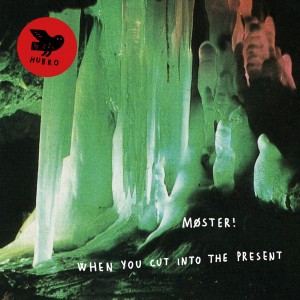 Kjetil Møster (saxophones, percussion)
Hans Magnus Ryan (guitar, percussion)
Nikolai Hængsle Eilertsen (bass, percussion)
Kenneth Kapstad (drums, percussion)
Nebula and Red Giant
Bandha
The Future Leaks Out
Journey
Soundhouse Rumble
Øra Studio, Trondheim March 20-23 2015
Hubro HUBROCD2565
On 2014's "Inner Earth" (also on Hubro), Møster! descended into the volcano – this might well be the eruption. Overall, this feels tighter than "Inner Earth" and it's no surprise that it was recorded during a break from some extended touring. The previous release had a lovely sprawling feel to it. This year is all about direct delivery of a more visceral sonic experience, everything locked in together.
The intro of opener Nebula and Red Giant is practically ambient – although the mood that it sets is one of sinister trepidation – before bursting into a funky (and rapid) rhythm over which Møster and Ryan smear wailing textures and repetitive catchy riffs.
Bandha is a little more prog-gy, meandering grooves over a blues-y vamp from Eilertsen and Kapstad, reminiscent of Captain Beefheart (possibly something off "Trout Mask Replica") which slowly build in intensity leading to a dense wall of guitar feeding back on itself and, a little later, a soaring solo from Møster, reminiscent of mid-period Coltrane but in no way derivative.
The title together with track #3 makes up a William Burroughs quotation: "When you cut into the present the future leaks out," which is in reference to WB's famous cut up writing technique; the point being that when you randomly reassemble deconstructed text, sometimes the resulting sentence predicts the future. The Future Leaks Out certainly has a feel of some angular musical jigsaw all connected by Kapstad's metronome beat. Dissonant and occasionally disconcerting, this is harshly transportative avant-noise-jazz at its best; a fusion for the 21st century.
The simple and elegiac sax that opens Journey contrasts with vibrato-laden guitar chords, rolling drums, and rumbling bass – a kind of more ragged, Nordic "A Love Supreme" – before switching into a more cinematic soundscape slashed at by Ryan's skirling guitar.
Finally, Soundhouse Rumble just makes me smile, shake my head from side to side, and tap my feet (mostly in time to the rhythm) – essentially, it's just a monstrous groove and an opportunity for each musician to have a little solo space – the perfect ending.
Last year's "Inner Earth" by Møster! was comfortably on my top ten releases of 2014. There may be a couple of months left to go, but "When You Cut Into The Present" sounds set to make it two years in a row.
("When You Cut Into The Present" will be released on 28th November, available from Hubro Music.)