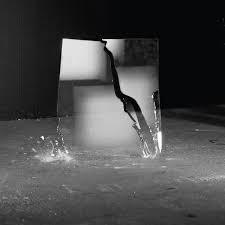 J. Peter Schwalm (guitars, pianos, electronic devices, acoustic and digital sound modules, mixing desks, drums and synths, except…)
Nell Catchpole (violas, on 1)
Eivin Aarset (guitars, on 2, 3, 4)
Tim Harries (bass, on 2, 7, 8)
Martin France (drums, on 2, 8)
Michael Wöllny (pump organ, on 5)
Christine Schütze (grand piano, on 9)
1. The Anxt Code
2. Himmelfahrt
3. The Beauty of Disaster
4. Number Become Stories
5. Stille, Blitz und Donnder
6. Zirkeltrilogie
7. Wunschklangregister
8. The End and the Beginning
9. Angstphantasie
10. Endknall
RareNoise Records RNR059
This has been my soundtrack for a couple of days now but I feel that I may still only be scratching the surface of this rich, multi-layered recording.
In a sense, this recording is masquerading behind an electronic/ambient disguise, but beneath the mask lie a series of facades and moods, at their centre a clear sense of Schwalm's aesthetic scale: grandeur without a trace of pomposity.
Schwalm talks of the pieces containing both dark and light and it's exactly so – there are many uplifting auditory moments here but at no point can you forget the shadows from which you're rising. It's like plunging into a thick ocean of sound – the dark waters buoy you up, suspended above the fathomless depths.
As to what's going on soundwise, I could mention:
The primal drums and throbbing menace of Himmelfahrt…
The muffled (heart)beat and vaguely Eastern piano ripple on Numbers Become Stories…
The majestic pump organ and descending bass notes of Stille, Blitz und Donner that lead into the creeping discomfort of Zirkeltrilogie…
The contrasting light, almost pop-py mood of Wunschklangregister…
The way the piano on Angstphantasie travels from tentative clarity to stately delirium and back again…
And the extended steel drone finale of Endknall…
But once each of these fleeting glimpses passes, they're replaced by other, equally striking moments. This disc is a prolonged exploration of electronic-acoustic textures; abstract yet hardly random – every tone, every nuance, carefully positioned, having a place in the grander scheme.
I could namedrop: Eno (obviously, due to his and Schwalm's past collaborations), "Low"-era Bowie, even Vangelis… slightly more leftfield might be Dave Tyack's whimsical melodies, and Susumu Yokota's analogue hiss… No doubt, there are many more, less 'pop-cultural' references and benchmarks. However, let's not do Schwalm any disservice here; those names may put him in excellent company but the scope and scale of "The Beauty of Disaster", it's simultaneous density and delicacy, are his and his alone.
Put simply, it's an enormously disquieting album – partly for the sounds, which are full of frisson, but also for the unsettling theme of a beauty that may lie within the disaster. The encouragement to find an aesthetics of tragedy within these dense, layered soundscapes is an invitation that is hard to refuse, however disturbing.
"The Beauty of Disaster" is available from RareNoise Records and Amazon: