Ozzy Pricto (clarinet)
Naná 'Tony' Rovira (bass clarinet)
Luiz 'Geezer' Rocha (clarinet, bass clarinet)
Enric Ponsa-Ward (drums)
The first Discordian Clarinet Trio gig focused on a last-minute choice (well, a few hours before the performance) to subject some of Black Sabbath's early tunes to the free improv treatment. Typical Discordian whimsy and I think maybe they were a little surprised at how well-received it was (it certainly led to an unashamedly positive aJazzNoise review). But here we are, about to enjoy a second dose with an expanded set list (six new tunes) and a little more rehearsal time. I'm looking forward to it, and judging by the presence of recording equipment, photographers, an artist, and the audience being the twice the size as last time, I'm not the only one.
Having billed the event as "Friday Bloody Friday" it's no surprise that the opener is Sabbath Bloody Sabbath. The main riff and song structure are played fairly straight, and Ponsa's light-yet-heavy touch on the drums lends some nice weight; although it's when all three clarinets join together in the lower registers that we 'feel the metal' (and the twin basses on the galloping riff in the latter half of the tune have us all wishing we'd sewn Discordian patches onto the back of our denim jackets!) Not too much free playing so far, but it's warmed up both band and audience alike; and drawn a free crowd in the street outside, listening at the open window.
Next up, an interesting choice: Snowblind from the "Vol.4" album. Not Sabbath's best-known tune but a great showcase for some slower tempo heaviness – if there isn't a 'sludge-jazz' genre then Discordian may just have invented it. That said, underneath Iommi's basic riff, there's a wealth of intricate detail emerging. Rovira holds down the structure while El Pricto and Rocha get to go free. In the meantime, Ponsa is stretching and twisting time, teasing us: familiar/not-familiar, before Rovira shifts up a gear and double-times it (or thereabouts, I left my metronome at home) and we finish on a shot of adrenaline. This song clearly belongs to them.
Now it's back to Sabbath's 1970 Birmingham beginnings for The Wizard. Thankfully, after the main intro, we're spared the original's lyrics (about a Gandalf-type conjuror or a drug dealer, depending on your interpretation) in favour of some nicely chaotic four-way free jazzing, with just fragments of the tune acting as signposts. After a sudden stop for a crowd-pleasing drum solo (70s rock!) we end on the mournful riff.
Another slightly obscure (but brilliant) choice: N.I.B. Instead of Geezer Butler's bass intro, we get Luiz Rocha's knife-edge improvisation before everyone descends to the depths to thrash out the refrain. Rocha took the intro so it's only fitting that Rovira take the solo and… she soars – N.I.B. is 'kind of' a love song and alongside the necessarily pummelling tones is a hint of heartbreak; blew me away.
Anti-war song Children of the Grave is up next and Rocha leads us in while Ponsa clatters around the kit, providing a nice chaotic edge. After all four musicians batter the tune this way and that, we get a great screeching, vibrato-laden clarinet solo from El Pricto before a prolonged and circular-breathed (is that even a word?) outro.
When everyone starts coughing, you know it's time for a little Sweet Leaf, the official aroma of the Barcelona night. After a collaborative statement of the theme, we launch into a series of improvisations (it's an extended version) and I notice that the window audience has long since drifted away – we're clearly at the heavier end of both rock and free improv (especially when Rovira digs out some deep, deep tones) and it's not everybody's cup of tea.
Black Sabbath begins with Rocha sin mouthpiece, leading a droning, desperate, strangled intro. While El Pricto and Rovira outline the tune against Rocha's atmospherics, Ponsa has departed for free regions unknown – we are definitely and joyfully 'out there'. A judgement which is only reinforced when Rocha begins to yodel through his bass clarinet.
At last, the eighth and final song: Lord of this World. Rovira is now officially the maestra of the monster riff; Rocha gets lyrical with the melody line; and El Pricto dons the mantle of Tony Iommi for a blistering solo – the tonality of the three clarinets just works so well for this music; it all sounds fresh through this different lens. Incidentally, I'm kind of impressed that we've avoided the obvious temptations of Paranoid or Iron Man (although of course, I'm also dying to hear what Pricto-Rovira-Rocha-Ponsa might do with them!)
So, that was gig #2 for Discordian's clarinet trio – this time enhanced by the poised and inventive drumming of Enric Ponsa – and the second set of Black Sabbath arrangements. Do I see an album in the near future? Here's hoping…
(Random trivia: in order to generate the appropriate heavy metal atmosphere, this review was mostly written while drinking Jack Daniels bourbon whiskey – I suffer for my art, I do.)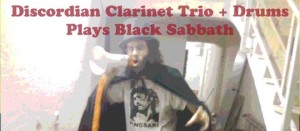 (http://www.tallermilans.blogspot.com/).
Some striking photos of the gig by Elena Márquez can be found here.