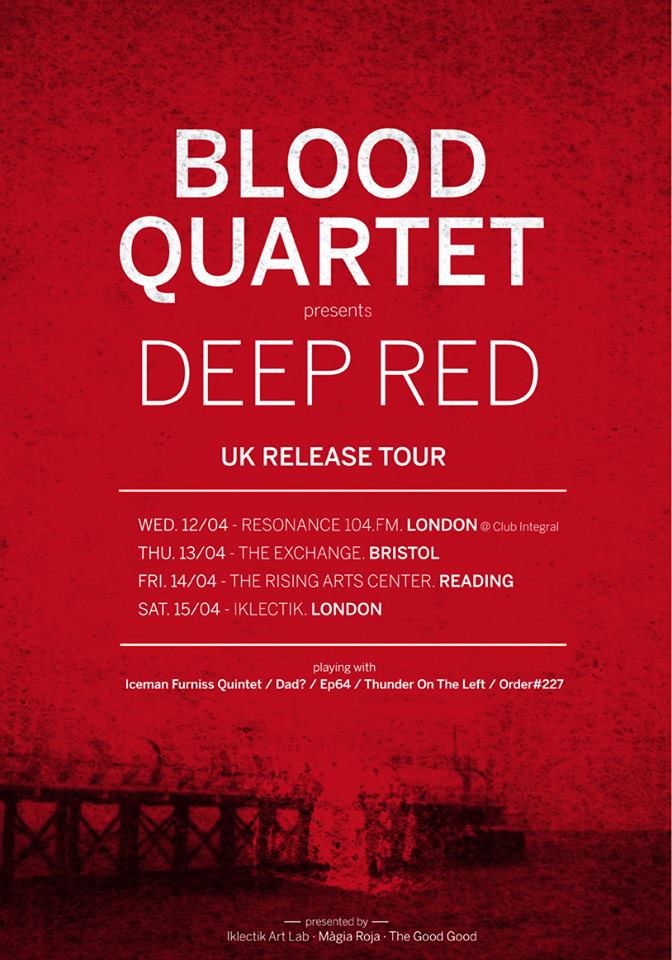 Mark Cunningham – trumpet, guitar
Lluís Rueda – guitar, Korg MS-10
Kike Bela – bass, Korg MS-10, guitar
Càndid Coll – drums, voice
(This concert was recorded and released as the album "Live Red".)
Blood Quartet are hard to categorise. Doomjazz? Kind of, but without any metal trappings. Noise? Lots of it but always contrasted with something elegant and delicate. Ambient? Surprisingly so, sometimes. And the more they play live, the more these and other ingredients are effortlessly blended on the hoof to produce an experience both cathartic and otherworldly. So, very lucky to catch them at London's Iklectik at the end of a short – four gigs in four days – UK tour. BQ's Mark Cunningham said, just before the performance, that the music was getting good and he was in no way wrong.
Certainly, the tunes have progressed beyond the versions to be heard on the album "Deep Red" (2016) or cassette "Dark Energy" (2015) – the essential structures are intact, a haunting trumpet here, a throbbing bass or synth rhythm there, but there's a collective force, a group energy present that opens up the possibilities, and an organic fluidity in the way all four – Cunningham, Rueda, Bela, & Coll– effortlessly pursue the music.
Interesting to see them on a larger stage… Bela is the charismatic attention-getter, all Hawaiian shirt, hat and angular limbs, sculpting the backbone to the music and often much of the bare structure with bass, synth, and occasionally guitar. Behind the drums, Coll is less rhythm-maker and more of a free clatter merchant, sharply propulsive but without the comfort of too-obvious timekeeping, constantly pushing the band past unseen boundaries. On tracks like Only Lovers and the unnamed tribute to his late grandma, he throws out some mean barely-verbal vocal cries too. Rueda is a purveyor of passionately self-destructive guitar, a torrent of atonal abuse via slide, screwdriver, and drumstick; constantly switching between two road-hardened Fender Jazzmasters (did I spot a Lee Ranaldo signature on one headstock?) serving up distorted rhythm shards. Cunningham stands alone off to the left, a monument to focused concentration, alternating between floating fx-processed trumpet lines, each note a precision thought, and a gorgeous 70s Danelectro hollow body guitar for added twang and muted chug.
So, Blood Quartet on tour: hypnotic, transcendent even, far from formulaic (not even with their own recipes), and a direct sense of immediacy, fuzzed proximity and yes, why not, Dark Energy indeed.
–
A quick note on 'non-stage' matters: Iklectik is a Waterloo venue dedicated to contemporary art and experimental music. As well as gigs, they present workshops, art residencies, lectures, panel discussions, and screenings. Music-wise, the space is large, well-laid out and atmospheric, and while adding monitors so the musicians can hear what the audience hears would be a good next investment, apparently the house equipment is satisfyingly vintage (borne out in the sound). If you're visiting London or a resident, well worth keeping an eye on Iklectik's Facebook page and their fascinating programming.
Factoid for trivia fans: in 40 years of live music-making, these are the first UK gigs Cunningham has played. Worth the wait but don't leave it so long next time, Mark! 😉