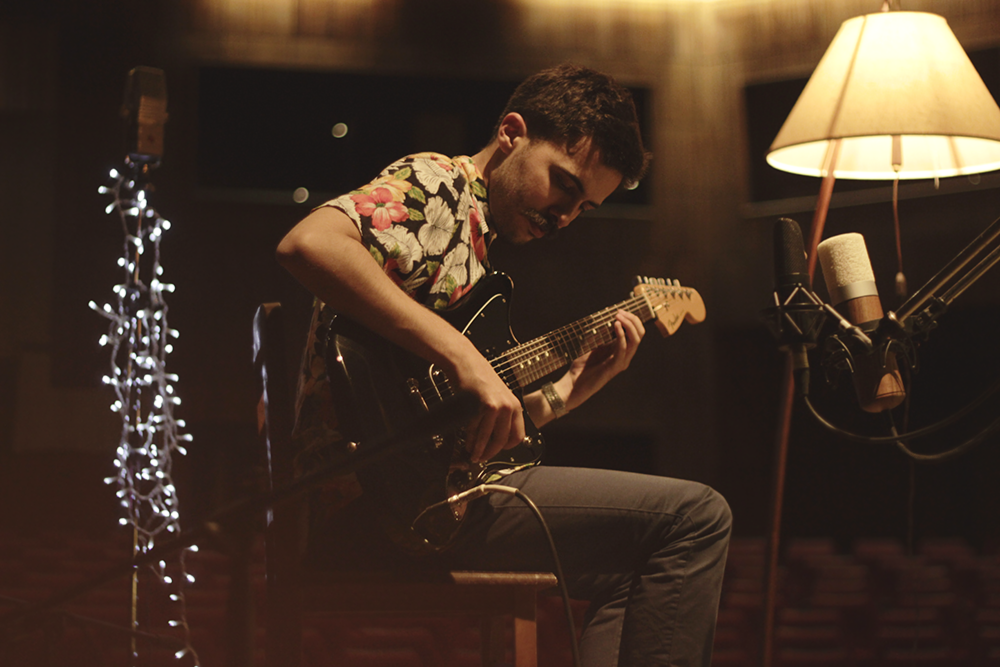 Pedro Branco covers a lot of ground. First known here at aJN for the exuberant and excellent EEL SLAP! disc, he also features on the post-rock, post-pop, post-jazz Oh Calcutta! And with Joao Hasselberg he's recently produced the decidedly folky "Dancing Our Way to Death" and the free improv "From Order to Chaos" (Clean Feed). Oh, and he also has his own label, Flea Boy Records. Busy guy…
1. Name an experience that contributed to your becoming a musician?
My parents giving me my first guitar, it was love at first sight. Also listening to "How Strange, Innocence" by Explosions in the Sky and "Rust Never Sleeps" by Neil Young, having my first delay pedal and talking about music for the first time with people that listen to the same stuff that I do (or did).
2. Who or what are you listening to at the moment?
Brandon Seabrook "Die Trommel Fatale"
Bill Frisell & Thomas Morgan "Small Town"
Palm "Shadow Expert"
Big Thief "Capacity"
Roscoe Mitchell/Craig Taborn/Kikanju Baku "Conversations"
CP Unit "Before the Heat Death"
Lee Konitz "Tranquility"
Demian Cabaud "Off the Ground"
Peter Evans "Ghosts"
3. What have been the best and worst moments playing live so far?
Every time I have a terrible background gig I feel like that's a new low in my musical career. There was also a moment when I played for the first time in one of my favourite clubs where I dropped my guitar and also my pedals stopped working in the same song. But now that I look at it after some years I wouldn't say it was a bad moment, it was actually pretty funny. I also played in a place that got on fire, which was also pretty hilarious, we had free drinks all night after that.
The best moments happen all the time, when the energy is there and the audience can feel what our goal is. Those few seconds when everything seems right and we all find each other (musicians and audience) are what make all of this worth it.
4. You're from Lisbon but live in Amsterdam – how do you think the music scenes in the two cities compare?
Well Amsterdam is huge compared to Lisbon. You have so much more happening every day (more musicians, more museums, more cultural activities), and although I still don't feel like I'm completely inside the musical scene in Amsterdam I feel like being here made me grow a lot and helped me to be more focused on my personal voice and what I want to do as an artist.
The scene in Lisbon is definitely growing though and it has some of the most interesting improvisers I know, and I feel like you really have a musical scene happening. There are some places where you can try you're new music, which is actually something that I find really hard in Amsterdam, to have small jazz clubs where you can play original or improvised music and you have an audience and a fair financial income.
5. Free improvisation remains an obscure, niche genre – how do you find and reach an audience for your work?
I try to be the most honest and real as possible with my music and hope that I can reach people with that. Actually this week something funny happened. I played in a really small jazz club in Algarve with a new trio that I'm playing a lot with (together with the trumpet player Gonçalo Marques and the drummer João Sousa). We play a lot of improvised music together with some more open pieces, and in that concert people only reacted to the most frenetic moments of wild and loud improvs. In the end an old man came to me and said "you know, I just love free jazz". So actually if I try to think how to reach people or how to play something that people want to hear that might be the beginning to loose the connection. If it's energetic, meaningful, deep, well played, creative, original and happening in the moment doesn't really matter if it's free improv or not, people will react to it.
6. Where do you stand on the streaming/downloading/file-sharing/musicians-not-getting-paid-for-their-music debate?
I love the easy access we have to music nowadays. I love the fact that I can listen to what people are doing all over the world. I think musicians should be fairly paid for their work. I hate spotify. Basically this is my position. The solution for it? I have no idea. Illegal downloads are not going to be easy to solve. File sharing is almost impossible to control. People are not going to pay 10 euros for every record they want to hear because it's so easy to download them illegally. I also feel bad if someone wants to listen to a record of mine but they don't have 10 or 15 euros to spend on a physical copy. I've spent hours and hours on something, and then what makes someone not listen to it it's a couple of euros? It's a really hard question. We've started Flea Boy Records so we could be in charge of our own music and projects and I believe in DIY collectives or labels or whatever you want to call it, but the big picture is much more complicated and I really do not have an answer for that.
7. If money and time were no object, what would your next project be?
Paying some tv channel or whatever to film the life of Bill Frisell, but like a reality show. How he cooks dinner and lunch, where he goes to have coffee, where he buys his newspaper. That would be great. I would totally watch that show everyday.
–
www.pedrobrancomusic.com
Flea Boy Records
(Title picture © Teresa Queirós)