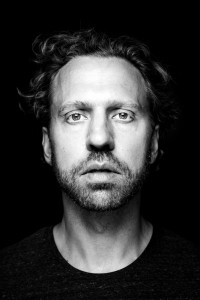 Jazz and rock: from his work with the Coltrane-inspired The Core to recent collaboration with Hungarian avant-rockers Jü, Kjetil Møster has always a foot in both camps and with his own project Møster!, he treads that fine line between the two with ease, creating adventurous and unpredictable prog-jazz. Last year's "Inner Earth" album comfortably made aJazzNoise's Top Ten of 2014 and the latest "When You Cut Into the Present" will certainly be on the 2015 list.
1. What was your first musical instrument, and what did it mean to you?
When I was six, I met this eight-year-old dude who played the accordion. I thought he was very cool since he was two years older than me, and I thought the accordion was the most awesome instrument, so I begged and begged my parents to have one, which I did the following Christmas. The teacher I got was extremely inspiring. We must never underestimate the importance of good music teachers for kids. This teacher and the accordion experience was such a good starting point, so one thing led to another, and here I am.
2. What was the first, and most recent music you bought?
The first two music cassettes I bought were "Falco 3" and Whitney Houston's self-titled album. And I got a Sony sports Walkman to play it on. I was 10 years old and we were on holiday in New York City, in 1986. The most recent was on vinyl by Gush (Mats Gustafsson/Sten Sandell/Raymond Strid) that I bought from Raymond last week when I put up a concert with the Per Zanussi Ensemble in Bergen. The latter two might still represent the broadness of my musical taste.
3. Who is the most inspiring person you've collaborated with, and why?
That's a tough question, because, not to be diplomatic or anything, but I very much draw inspiration from everyone I work with, or listen to, or read an interview with, or talk to about music. Either in the sense that I get ideas how to do things, or how not to do things. But as of now, these days, I must point out the fellows in my band, Hans Magnus [Ryan], Nikolai [Hængsle Eilertsen] and Kenneth [Kapstad]. Most of all because of their playing, but also because of their approach to music in general and to their own playing, and their encyclopaedic knowledge of music. The after-gig hotel room YouTube sessions with those three has given me a lot.
4. What's the balance of preparation vs. improvisation for the average live set or recording?
For us, I think it's a bit like standing on a plank lying on top of a barrel. For preparation, we have some riffs, rhythmic ideas, harmonic and melodic ideas that I provide. Then we prepare that work in rehearsal, so everyone contributes to developing the material with an improvising approach. Then we play it live, where the balance between the two has to be right; we need to have it open and improvised enough to surprise ourselves and take chances and develop new nuances, but prepared enough to be able to get a structure to it. The same process goes for studio recordings, but then we have more flexibility to arrange the improvised material when editing.
5. What have been the best and worst moments playing live?
Most of the gigs are the best, that's when the abovementioned balance between prepared and improvised is right, and when we can hear each other properly on stage, and the sound is good. Then we get into this rhythmic frenzy of really high volume and intensity, which always makes me really high and everything in life feels very right.
The worst are the times when those things are not in the right proportions. That's slightly depressing, but it's ok anyway.
6. Where do you stand on the streaming/downloading/file-sharing/musicians-not-getting-paid-for-their-music debate?
I think the worst part about the streaming technology is that people are getting used to not paying for the product that most of the musicians putting out music are spending their lives to produce. And as a consequence of that, I think people are getting less engaged in the music itself, and more exposed to the mass manipulation that more and more of this industry is based upon. The money goes straight in the pocket of a very few people, and none of them are musicians. I think well of the technology itself, and the philosophy that the internet was based upon. I like the anarchistic internet-is-free-for-all approach, but I don't like to see market analytics taking over that mechanism and turning it into exactly the same thing it was before digitalism took over.
7. What's next? (musically, geographically, recording, tours, ensembles, anything…)
We'll be touring as much as possible with this album, and start rehearsing new material during this upcoming spring. We'll make a new record during 2016, and during 2017 we'll release it, and make a big band version of the band with some wicked folks. Stay tuned…:D
"Inner Earth" and "When You Cut Into The Present" are both available from Hubro Music.
"Jü meets Møster" is available from RareNoise Records.